The Go-Betweens
Review of their gig in the Ambassador, Dublin, 26th April 2003
There's magic in here. At least there was in the Ambassador on Saturday 26th April last. On stage, conjuring up the magical melodies and winsome lyrics were Grant McLennon and Robert Forster, sometimes referred to as the Australian Lennon and McCartney, but mostly known as Brisbane's finest ever band: The Go-Betweens.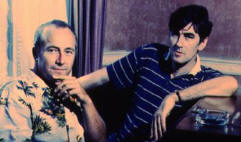 In attendance were hundreds of thirty something couples and singles, each one of who could probably rattle off the name of every Go-Betweens album between 1982 and the present day. I know I could.
We came expecting to hear mellifluous melodies and poignant pop music and from the opening chords of 'Make my Day', from the new 'Bright Yellow, Bright Orange' album, we weren't going to be disappointed. The band slipped into the groove quickly and soon the crowd was swaying along to the choicest cuts from the band's last two albums, as well as a sprinkling of timeless tunes from The Go- Between's past.
Swapping lead vocals after a couple of songs apiece, we were soon ripping through the catalogue of classic GB songs with 'Spring Rain', 'Magic in Here', 'The Clock', and 'Surfing Magazines' going down a particular treat.
And as the dandiest man in pop, Robert Forster visibly relaxed, off came the jacket and tie, and out came the quips and the pithy patter. No content with writing masterly pop songs, he is also the consummate showman. There's clearly no end this man's talent.
We rode the Go-Between train for 80 beautiful minutes. And when they came back for the obligatory encore, we wouldn't let them leave. They came back again. And again. When the house lights finally went up, you could still feel that magic in the air.
Brian Kelly

Check out a review of the Go Between's album 'Friends of Rachel Worth' (released in 2000).