Glen Hansard
Vicar Street, ">Dublin, 23 June 2004
Someone asked me recently "Don't you ever get tired of The Frames?" and it's true I haven't been playing their albums with the same regularity of late and their recent gig in Limerick was somewhat dampened by the inclement weather. That being said Glen Hansard's solo gigs are always a unique experience, all the well known Frames songs but pared down, one man and his guitar giving them a distinct treatment. He has to rely on his charm and storytelling to fill the gaps left by the other members of the band.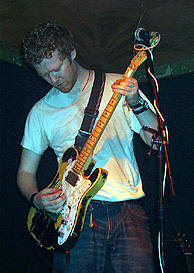 Much has been made of this storytelling between songs and it continues to divide fans as comments on the band's website illustrate. It was remarks there concerning Glen's apparent tiredness, following his return from recording in France, which made me a little nervous in advance of this performance. I feared this was going to be the gig that would finally convince me to hang up my Frames fanaticism and give them a break. Thankfully any fears I had were misplaced and not showing any signs of tiredness Glen gave a superlative performance. Switching comfortably between his electric and acoustic guitars, joking and telling tales, getting a pint from a pretty blonde he played for over 2 hours and looked completely at home.

Glen started the set with two new songs played to a rapt audience. He fumbled a few of the words but this only endeared him more to the crowd. There was intermittent heckling and he even mentioned how difficult he finds playing to a home audience but loves it all the same. In his introduction to 'Lay me down' he said he wanted to clear up the misinterpretation of the line, "lay me down in the hallowed ground where my father waits" explaining that people keep saying to his father that they thought he was dead, which he isn't, he's a taxi driver. 'Headlong' was introduced with a Caroline Corr story related to a certain Hotpress Award 2 or 3 years ago, when they were both nominated in the same category. He also added a whole new chorus to the beautiful, bittersweet new song 'Finally'.

It was a sign of how relaxed he was that when a shout of "Outspan" (the name of the character he played in Alan Parker's 1991 film 'The Commitments') came from the balcony he retorted with a rocking version of 'Mustang Sally' reviling the audience for singing the chorus "Ride around Sally" in a Dublin accent. It's an aspect of his past that he has continually tried to put behind him but it seems to haunt him still, even his Mother, who was in the audience, encouraged him to do the sequel, she thought it would be the making of him.

His set also included 'Where is my mind' by The Pixies, he described how impressed he was after listening to them on his cassette player on the rooftop of the Stephens Green centre, many years ago.

He included all the favourites 'God Bless Mom' (which he dedicated to his Mother), 'Hollocaine', 'Rent Day Blues', 'Star, Star', 'Fake', 'Revelate', 'What happens when the heart just stops', 'Seven day mile' a rocked out 'Monument' as well as 'Raglan road' and Mic Christopher's 'Heyday' which had the entire place singing the chorus. His voice lit up the room and everyone seemed completely enthralled by the end of the set. He left the room on their feet and I think it was one of his finest performances to date (but then maybe I'm biased!)

Roll on Marlay Park in August.