Gemma Hayes
Dolan's Warehouse, Limerick, May 7th 2003
A lot of things have changed since I last saw Gemma Hayes at Dolan's over a year ago (March 2002). Back then, she had problems tuning her guitar, displayed bouts of onstage shyness, and didn't play to a hell of a lot of people. Fast forward to May 2003, and there is a guitar tech ever-present to deal with tuning problems and the venue is packed to the rafters. Oh, and since that appearance at Alphonsus St., she has released her debut album 'Night On My Side', which has not only sold quite handsomely, but also received a critical thumbs up and a Mercury Music Prize nomination to boot.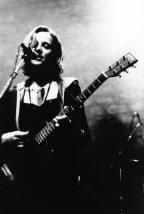 But what about that on-stage shyness? Hayes certainly seemed to dispel that one from the start with the punchy one-two openers that were 'Let A Good Thing Go' and 'I Worked Myself To A Calm', two of the tracks that have seen some critics cite My Bloody Valentine as a possible influence. It's a confident and assured opening duo that managed to quieten what was at times a rather loud audience. Perhaps one of the most pleasing aspects of this show was that she managed to incorporate a fair share of material that was not from the aforesaid debut album. Nevertheless, there was just one new track on display. 'Holy Places' may possibly be following the same theoretical path as 'My God' from 'Night?', but it emerges as another one of those Gemma Hayes tracks that slowly reels in the band that have proved crucial to her studio sound.
An acoustic version of John Martyn's 'Head and Heart' proves that Hayes is still loyal to the folk roots that raised their head on her debut E.P., '4.35a.m.'. Indeed, three of the five tracks from that E.P. are played tonight. However, it's the album tracks which seem to get the most respect from the audience. Whereas at last year's gig. 'Hanging Around' was the unknown forthcoming single, it is now firmly a crowd favourite. A playful intro which sequenced into 'Back of My Hand' unsurprisingly gained the best reaction of the night. Nonetheless, personal highlights of the evening (and indeed, there were a few) were 'Lucky One (Bird of Casadga), a track which is perhaps the greatest manifestation of her sound; and the glorious closer 'Stop The Wheel', which tragically didn't make the starting line-up for 'Night On My Side' (it was a b-side on 'Hanging Around' instead).
One quick encore, an acoustic 'Evening Sun' and that was it. Any complaints? Well, I'm not a mathematician but I have come to the conclusion that possibly the largest female attendance I have ever seen at a gig may equal the chattiest audience ever (apologies to readers of the fairer sex!) On the music front, there were no real complaints. It was an extremely tight, solid show. The between song banter may have a bit to go, but it seems that things are going to continue to get better and better for Gemma Hayes.
Ciaran Ryan

Check out Ciar?'s review of Gemma live in Dolan's back in March 2002.


Feel free to discuss this review on the CLUAS Discussion Board.