The Frank and Walters
Review of their gig in Whelan's, Dublin, 21 December 2002
It was a "Christmas presents money" gig one wag had suggested. It certainly was a rare Dublin appearance by Corkmen the Frank and Walters. The band play one or two gigs most years in the capital and the size of the queue outside Whelan's beforehand hinted the band could have taken a lot more loot back to Cork and left something under many more Leeside Christmas trees.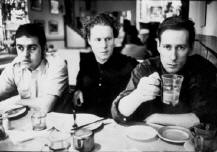 When the three friends from Cork stroll on stage they look an unlikely trio to have squeezed the British rock press of such superlatives as those heaped heavy by NME and Melody Maker over the past decade. Paul Linehan is as goofily charismatic as ever, allowing his Cork brogue do the talking as the band get into a laid-back opening with Pathways. Their collective love of melody and God-given gift for a hook are red-handedly obvious again on 'Indian Ocean'. Linehan pauses then to throw off the first of many one liners and sly remarks to the legions of Franks making noise on both levels of Whelan's limited floor space. Behind him drummer Ashley Keating seems to be having some trouble with his sticking while the sound technician's ineptitude has both guitarists looking for a sonic boost, Keating's problem too perhaps. It's one of a few pauses tonight caused by technical gremlins, none of them lasting long enough to puncture the euphoric flow of the gig.
Linehan's distinctive voice soars when we move to the lush lyrical pastures of 'Changed My Way of Thinking'. Consistently impressive now as when he first thrilled our stereos, Linehan shifts between indie/rock/pop genres in aMorrissey way while always remaining compelling.
An early '90s moment happens when the band leads right into their greatest exercise in surrealism, 'Walters Trip'. Like that other precious Cork merchandise this tune really turns the moment gold. The intelligence of the lyrics on 'Walters Trip' outdoes their goofiness, a trademark of the Frank and Walters' genius.
The night is really heating up when 'Russian Ship' is followed by 'Fashion Crisis Hits New York'. 'Something Happened to Me' follows and the place starts getting shirtless on Linehan's prompting. Good timing: the glorious melodies and faultless pop sensibility of 'After All' enter the hall to make everyone's Christmas special.
'Colours' is next, followed by this reviewer's favourite number of the night, 'This Is Not a Song'. The boys close the set with 'Underground', a single from the last album, Glass.
Since they got together twelve years ago the Frank and Walters have eaten the clich? and written some of the best pop songs of the modern age. The Franks' nearly men history has been well documented: the 1991 glory days when the band's first 3 releases were all made 'Single of The Week' in either NME or Melody Maker; debut album Trains Boats and Planes charting the top 10; Radiohead andSuede opening their shows and roadieNoel Gallagher lugging their guitars about. The intelligence, wide-eyed optimism and drive of tonight's shows there's no sign of an end to the depth and vision of Frank & Walters song-writing. This actually looks like a group on auto pilot at the stratosphere of their creative powers.
Drummer Asley Keating once recounted a story about telling an insurance salesman on a London train he was in an indie band: "?Oh, right, likeTravis', he replied to me. I think I went into shock, were these moaning Travelling Willbury sound-a- likes now defining indie-music?" The Frank & Walters new album, he vowed, would restore a world once populated by Gods and "now inhabited by a bunch of plodding, insipid, self-absorbed musos." That album was "Glass" and Keating kept his promise. The Frank & Walters make bright, shining, intelligent music that makes anybody want to stick Thom Yorke'smoaning dirges where the sun don't shine.
It was always going to be a straight up party night: none of the band's dancier tracks are wheeled out. A few more technical glitches on guitars suggest the band might be letting a smattering of world-weariness set in. And then all is redeemed as some more hard work, wonderful songs and honest talent wind up the night. Why this band hasn't become a world phenomenon is a sore mystery. There's so many lost classics on this stage tonight that deserve more than a place on the dusty shelves of the pop archives.
Still, it's a night of celebration, a night to appreciate the value of what we've got in these home grown marvels. One of their home town fans put it eloquently, and often, when the show ended: "Legends, fucking legends".