The Frames
Corner Hotel, Melbourne, 25th October 2002
"Feels more like we're in Whelans which I can't say is a bad feeling."
The first words uttered by Glen Hansard at the Frames gig in the Corner Hotel, gives an indication of the warm reception they received. They came to Australia to prove that their music could travel outside the green fields of home and they proved that in Melbourne. Their gig in Sydney received rave reviews and the Melbourne concert was preceded by a lot of local promotional press. The Age newspaper, who despite a glowing review, dubbed them "The Misery Celts" due to the mellowness of "For the Birds", might perhaps have given the article a different slant had they written it after the concert.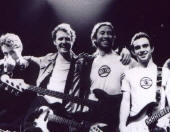 Support on the night was provided by Australian singer/songwriter Jodi Martin accompanied by her sister Rachel. Unfortunately most of her set was drowned out by a talking crowd, though she was interesting enough to warrant further listens.

The Frames came on stage and their nervousness, fuelled by the fact that the local radio station Triple J were recording the set, quickly dissipated. The band opened with the bittersweet "What happens when the heart just stops" but their introspective mellowness was short-lived. They dipped in and out of their back catalogue of albums from Fitzcarraldo to For the Birds and played some favourites such as "The Stars are Underground", "God Bless Mom", "Star, Star" with Joe Doyle sweetly singing "Two Little Boys" in harmony with Glen, "Lay Me Down", "Disappointed", "Sancta Maria" and "Headlong" with the whole crowd joining in. It was not a night for changing a formula that has stood the test of time in Ireland and Glen's warm banter with the crowd proved as popular as ever. Before performing "Pavement Tune" he told us the inspiration for the song was seeing a man in Dublin shouting at pavements. Glen also joked about coming home from a gig and finding himself homeless and penning "Rent Day Blues" about it.
"Love will Tear Us Apart" the Joy Division classic which the Frames have taken as their own, also featured. Their power is their live performance where the depth and variety of material produced over more than 10 years is given a chance to shine, with Glen crooning on the quieter songs and then letting loose with raucous fervour on the rockier numbers.

They treated the crowd to two encores and for a night we all felt like we were back home. Only one new song was showcased - "Blood" - with Glen and his guitar arriving back onstage and it didn't take much coaxing to get the audience to sing the harmony with him. The familiar opening bars of Revelate had the crowd screaming and the chorus was deafening. They came back a second time for "Red Chord" - one of my personal favourites - and ended the night with Mic Christopher's'Heyday', a fitting tribute.

It may sound clich? but the Frames never disappoint on stage and their genuine appreciation of their fans is something that keeps you going back for more.

Glen's last words were a shout of "Goodnight Melbourne" in true rock and roll style and. given their performance, here they have more than proved their status as a world class rock and roll band.

Check out the CLUAS review of the new Frames album 'For the Birds'