Flaming Lips
Review of their gig in Vicar Street, Dublin, July 1 2002
Question: What do bunny suits, covers of Kylie songs and hand puppets have in common?
Answer: A Flaming Lips gig (and bet you thought it was something else...)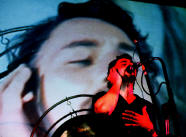 It was a dull grey Monday evening in Vicar St. and the venue stank of adolescent male. This was not an auspicious start to what proved to be a most uplifting and inspiring assault on the ears and eyes. But we got some hint of what lay ahead when the stage crew brought out giant disco balls and a band member wandered onstage in a bear costume.
Softly-spoken lead singer Wayne Coyne politely thanked us for coming and launched into a cracking gig that included the beautiful songs from 'The Soft Bulletin' album and also some new songs from the soon-to-be-released 'Yoshimi Battles The Pink Robots'. Coyne told the audience that he is still aware of what an audience wants when they go to see a favourite band.
When H?ker D?played the Lips hometown of Oklahoma in 1986, Bob Mould and the boys played only the songs from their then new album. Coyne told us that he felt 'let down' when they didn't play anything from their previous albums. (I can recall a similar emotion when Bob Mould in his Sugar days played F?le. The guy just didn't acknowledge the audience at all, just slammed into his set and walked away. Incidentally, Mould was to play support for this Lips tour but he had to pull out). Anyway, the point of the story was to show that The Flaming Lips would always acknowledge the role of the audience, and play them a mixture of new and old songs.
The Lips certainly do acknowledge the audience. The band threw giant balloons to the crowd, showered us with confetti, messed around in animal costumes, and worked in the visuals from the giant background screen to great effect. For the sweetly sombre encore, Coyne instructed the audience to applaud loudly throughout the song, and to applaud especially loudly when a rocket appeared onscreen. And yes, we did just that and we giggled sheepishly at each other for collectively going mental over a rocket. The Teletubbies were onscreen during A Spoonful Weights a Ton, a bizarre combination that really worked (without the aid of strong hallucinogenics I might add).
Perhaps that's what the Lips are all about - a collective high that's both odd and beautiful.
Sadhbh O'Dywer