Erykah Badu
Heineken Music Hall, Amsterdam, July 1st 2002
Though heartbroken not to be in Dublin to catch Aimee Manntake to the National Stadium stage, consolation was far from scant as, that very same Monday evening, Erykah Badu made an all too rare European appearance in Amsterdam's Heineken Music Hall.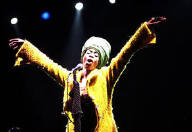 That Ms. Badu is largely unheard of on Irish shores (along with other US megastars like Fiona Apple and Dave Matthews Band) is nothing short of a crime, and one deserving of some sort of tribunal or another. For the uninitiated, imagine for a moment that Bono was the epitome of soulful music. Imagine he could hit a high note with aplomb unequalled. If, on top of all this, he was a woman of colour, incredibly sexy, smooth, sultry (and not so short), he would probably be Erykah Badu.

Looking fantastic in an obscene yeti-like costume and quite possibly the biggest straw hat ever seen, Badu entered the fray with all the coolness you'd expect from the woman that Lauryn Hill and fellow Texan, Macy Gray aspire to be. Sifting through some earlier gems like On & On and Certainly it was clear that this night was going to be truly special. It wasn't long before the garb was shed and she was mixing her vocal acrobatics with some hit 'n miss humour (preying, for example, on some poor toothless guy who was clamouring for her attention). Every now and then she stepped into the shadows to let her assembled players earn their keep: jazz, Blues, Reggae, Soul, Hip-Hop, R&B and quite often all at the same time. You just have to wonder how somebody can become so damned accomplished after only two 'proper' albums.

If confirmation was needed that she truly owned the stage then how about her indulgence of a ten minute prance across the boards, with all the grace of some voodoo high-priestess ballerina before coming back to earth to launch into a delta-blues version of the wonderful Orange Moon. And lets not forget Tyrone, her own brand of girl-power that somehow manages not to offend the male contingent. "Sisters, how y'a'll doin? Brothers! Y'all all right?"

And there it is, five thousand people leave feeling a great deal cooler than they did when they arrived. I think the Dutch word for outstanding is 'prima.' A true prima-donna indeed.
Frank McNally