Engine Alley
Eamon Doran's, Dublin, 30 December 2003
I wasn't quite sure what to expect as I ventured back into Doran's last night. As I descended the stairs, I happily saw a decent sized crowd, especially considering the week that is in it, many it would seem coming out to rekindle the embers of a time when the Alleys stood on the cusp of greatness.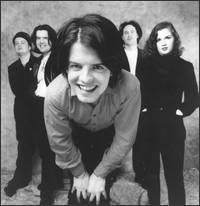 Even though Steve Lillywhite turned the knobs on 'A Sonic Holiday', their recorded material never captured the energy and dynamism of their live spectacles. That sense of drama - the spectacle - was why we came tonight. And we didn't have long to wait. Brian Kenealy, guitarist and late of Smithfield Ice Rink, strode crutchfully onto the stage, collapsed into a chair and placed his plaster-cast leg to the left of his guitar effects board.
Canice, Eamonn and Paul O'Byrne completed the line up and gave us almost two hours of hits and favourites from their back-catalogue. Gone is the glam of the early days, but the volume is turned right up. This is the way the songs were meant to be heard, meaty riffs and a pulsating bass-line. Canice camped it up, ad-libbed through songs and generally played without inhibition, blending Shot in the Light with The Velvet Underground's 'I'm Beginning to see the light' in a manner befitting BP Fallon!
Searing guitars underpinned 'Telescope Girl', 'Robin Hood', 'Ballad of the Sinking Star', 'The Fridge Song' and of course 'Car on Fire' in a set that included pretty much everything from the first EP and album, with a smattering of tracks from the second and darker 'Shot in the Light'.
Canice arrived back on stage after the first encore to play a few tunes himself. I think he was enjoying himself such that the rest of the band, including the semi-mobile lead guitarist, made it back for finale that included 'Old Lovers', 'Switch' and Neil Young's 'Southern Man'.
Although slightly shambolic at times, Canice accurately summed the night up when he said "Don't mind the mistakes, just get into the vibe". And so we did. And so we'll come again.
Tony Corrigan