Electric Picnic 2006
Stradbally, Co. Laois, 1, 2 and 3 September 2006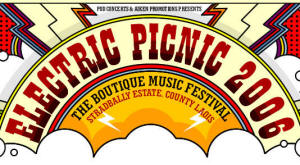 There's been a lot of talk about the Electric Picnic, some bad, most good, with descriptions varying across the very extremes of taste. It has been dubbed "posh rock for yuppies" scorned as some kind of demented hippy jam fest, and lauded as the greatest thing to hit Ireland's music scene.

From the start the Electric Picnic has pitched its tent at the far left of the festival spectrum, a "boutique music festival" and, nominally at least, standing diametrically opposed to its money crunching, big band chewing, major name counterparts. There is a clear Glastonbury agenda, in fact some of the areas, such as the ever impressive 'Lost Vagueness', have been plucked straight from the sunny fields of Somerset. Parts work very well, while other areas are still finding their feet and retain an air of mild curiosity rather than being essential and alive.

However, if you are going to choose a festival to model yourself on, Glastonbury is no bad choice, and it must be remember that Mr Eavis has been throwing his bash for over 30 years. It hosts a whole community of artists, artisans and activists who return each year, investing time and soul into creating a distinct scene, and something very special in the process. Who is to say that the same wont happen at the Picnic, time is definitely the key ingredient, and things look promising. The unique effort that is the Big Tree Stage, and the Body and Soul area both stand out.

For a festival in its infancy it has had more than its share of teething trouble, and looking at its rapid growth, problems had to be expected. The toilets, the campsite layout, food queues, many things were messed up, but you get the feeling that problems were noted and will be improved upon next time round. So far it has proved a resounding success, and hopefully it will continue to grow and flourish.

As for the music? sweet jesus, so much and so good! There was a wealth of talent, with far too many acts to cover and too little time to enjoy. The big name acts have all had their space in the headlines, so I will focus on 3, one a day ranging from the primitive to the future primitive sound.
Day 1 - Friday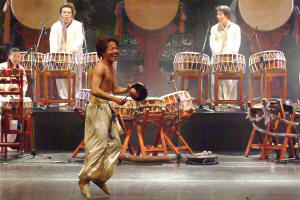 Friday night found me wandering in a euphoric daze of blissed out oblivion, fresh and reeling from seeing The Redneck Manifesto kick out a swirling instrumental shimmy of a set that could have left only Pol Pot grumpy. I was lured into Body and Soul by the tribal sounds and seductive beats of Korea's Dulsori Drummers as their rhythms bounced from the natural amphitheatre and the band kicked back and unwound. Any pretence of this being a "show" had obviously evaporated long before I arrived, for this was a messy cacophony of gyrating bodies and jumping fiends as some hyper happy drummers grinned manically and pulsed out ever faster, ever livelier beats. Encore replaced encore and a party emerged in what was a loud and vibrant testament to the combined powers of hand drumming, joy and supreme talent. It was something more than special, and the kind of touch the sets the Picnic apart from its competition.
Day 2 - Saturday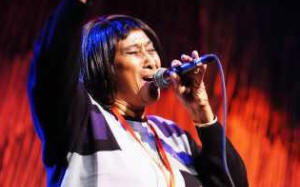 Saturday evening brought the Skatalites from Jamaica to the main stage. The Skatalites have undergone many changes since their inception in the early days of ska and reggae, losing members to insanity, age and the rigours of the road. Yet they remain a tight, talented and unfailingly honest outfit, all horns and Jah, and still brimming with that home-grown Jamaican exuberance. Some sound problems unfortunately delayed the start of the show, resulting in a drastically reduced set. It is a pity, what they played was amazing? from roots to ska and back again dancing. One of the nicest moments came when Doreen Schaffer joined them on the stage. The Skatalites toned the exuberance down to roots perfection, and a beautiful soul sang joyous. It might sound wistful but when your heart is racing from full on ska and something like this hits you from leftfield, well, it is a 'moment'.
Day 3 - Sunday
Sunday night brought an inevitable end, and coming off a disappointing Yeah Yeah Yeahs performance I headed off to see Cut Chemist, a man I knew only by association with DJ Shadow, and leaked tales of San Francisco's Future Primitive Sound. Straight up and in short I have rarely been so impressed at a gig. The talent, the sense of time, the musical knowledge, the humour, the showmanship and the soul that Cut Chemist brings to the table are inspiring. He worked the crowd, played the stage and clearly loved every minute. A cheesy "what's your name and where are you from?" break into the audience was flipped on its head as Cut returned to the decks, laid on some breaks, and mixed in the audience samples. Perfection. I've never been to this type of gig, never seen this level of turntablism and rarely been so impressed. A perfect end to a quality weekend. Go next year.

Daragh Murray

Check out also the CLUAS review of Electric Picnic 2005 (at which the Arcade Fire headlined).