Doves (with support from The Thrills)
Review of their gig in the Olympia Theatre, Dublin, 13 December 2002
Opening tonight for Doves, The Thrills' formula for success is rather simple: swap the melancholic strain prevalent in Irish music with sun-flecked Beach Boys harmonies along with a feel for a melody that could make Alex Chilton feel inadequate. With their thrift-store clothes and mops of black curls, it's easy to see them as the natural heirs to The Strokes' crown of cool. Live, they cut a definite stage presence and come armed with a bunch of songs that reveal that 'Santa Cruz (you're not that far)' isn't just a one-off. The Thrills are forging their own anti-depression musical vision, looking beyond these dark shores for something new. They are going to be huge in 2003.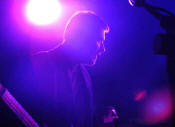 After a strange and very funny short film depicting a young child's quest for the treasure at the end of the rainbow, Doves begin with the rush of blood to the head that is the superlative 'Pounding', and follow with it with 'There Goes The Fear', a song so cleverly structured it was surely born of some strange mathematical equation. Each song comes with its own set of visuals that work in brilliant parallel with the music: passing landscape in four monochrome segments for 'Sea Song', an infernal Hindenburg falling and exploding in sync to the surging dynamics of 'NY'.

Vocalist/bassist Jimi Goodwin seems almost apologetic that we have all turned up here tonight to see his band, but when they launch into a teasing, soulful 'The Cedar Room' I would gladly pay three times my ticket price to witness this. The fundamental beauty of Doves is their effortless ability to overcome their brooding lyrical preoccupations with the most hopeful music in the world. Add this to the fact that tonight marks the last date of almost a year's touring and it doesn't take long for the party vibes to take over.

It's over too soon of course, but they come scurrying back on for a head-first dive into a blistering 'Catch The Sun' and a thumping, effervescent instrumental 'Space Face', a nod to their dancier, Madchester beginnings. It's a euphoric climax to a remarkable night where Doves show that they are one of just a few bands that make it glaringly obvious how redemptive and life-affirming rock music can sometimes be. We're simply left floored by their brilliance.

Check out a review of the Doves live in Boston in 2001.


Check out the CLUAS review of Doves live in the Olympia in 2002.