DJ Vadim
The Shelter, Dublin, April 6th 2002
The Shelter, April 6th, midnight. We await the return of DJ Vadim, the Russian-born, London-based producer, label owner, hip-hop fan and record collector. Vadim's last Dublin show (at the Temple Bar Music Centre in October) saw an enthusiastic if sparse crowd go ten rounds in the hip-hop ring as Vadim delivered blow after body blow of classic and soon-to-be-essential cuts. Vadim plays records like he's your Desert Island Discs DJ ("If you had to choose one DJ to take with you, who would it be?"); his record-selection criteria is based on the boogie-ability scale - anything that doesn't induce at least 8 out of 10 people to wildly throw shapes on the dancefloor doesn't make the grade.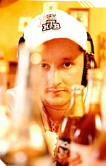 This approach to DJing is a refreshingly simple ethos that never fails to hit its target. None of your ten-minute scratchfests here, Vadim just wants to get the party started, a feat he swiftly accomplished at the Music Centre that night by serving up hip-hop's finest moments from the past two decades alongside brand-new classics like Pharoahe Monch's "Got You". (The gentlemanly Vadim tends to play the expletive-purged "clean" version of tracks - hence he prefers "Got You" to "F*** You". In the absence of a clean version, he will scratch over the rude bits - a testament to his desire to let the music speak for itself while maintaining a distance from the posturing that so often casts a shadow over the hip-hop genre.)
The Shelter, 1:30 a.m. The flat-cap-wearing, Lenin-bearded Vadim takes to the stage (or the step, in this case) in the more intimate space of the Shelter. While from the outset it's clear that Vadim is intent on quickly getting down to the serious business of having a good time, it is instantly apparent that preconceptions will not be tolerated and the only option is to surrender to his unique vision of dancefloor mayhem. Anyone anticipating a repeat performance of last October's 90-minute hip-hop workout is forced to do a quick revision as - Dead Poet's Society-like - Vadim tears up the textbook instructions to How To Be A Hip-Hop DJ right at the beginning of the lesson.
As guest MC Demolition Man (ex-Demon Boyz reggae toaster) brings his vocal style to bear on Vadim's record collection, the resulting phenomenon is none other than live ragga - a rare and exciting prospect in any club on a Saturday night in Dublin. Having duly stupefied the crowd, Vadim settles us in with some familiar hip-hop groovers - Group Home's "Livin' Proof", Jeru the Damaja's "Ya Playin' Yourself" and the wiggle-inducing "Vivrant Thing" by Q-Tip - before embarking on a surprise drum 'n' bass assault. All manner of dancefloor chaos breaks out as the crowd attempts to keep pace with Vadim's relentless whirlwind of beats and pieces, splicing hip-hop into jungle, endlessly cutting up classic hip-hop tunes before mercilessly crushing them with four-wheel-drive drum 'n' bass. Highlights include a jungle version of Luniz' "I Got Five On It" and the recurrence of "The Terrorist" (featured on 1999's "USSR: Life From The Other Side") in various shapes and sizes. Throughout the happy confusion Demolition Man adds his tuppence-worth and not a little sprinkling of cheese on top, inducing the slavering crowd to hold lighters in the air during "More Fire", a track that he claims samples the vocal talents of his five-year-old child and gives A Tribe Called Quest's "Can I Kick It?" a punishing drum 'n' bass workout.
Perhaps realizing he's running out of party time, Vadim speeds through hip-hop's back catalogue, digging out gems like De La Soul with Redman's "Oooh" and DJ Shadow's "Organ Donor". The last few minutes are spent cramming in as many floor-filling exercises as possible: the Jackson 5's "I Want You Back", "Fool's Gold", "Rapper's Delight" and James Brown's "Sex Machine".
3 a.m. Sadly denied the right to an encore by the men in suits, Vadim slopes off unobtrusively, satisfied in the knowledge that his work here is well and truly done. Please, sir, can I have detention?
Sylvia Leatham