Delorentos
Crawdaddy, Dublin, 25 June 2005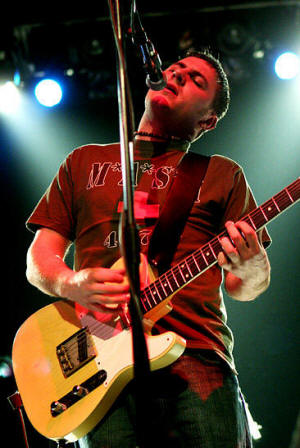 Review Snapshot:
Saturday, June 25th, a venue in Dublin. A 4-member band play a suburb set to a rapturous crowd. That venue is not Croke Park and the band is not U2.

Full review: Delorentos were formed 3 years ago and were for a long time, according to singer and guitarist Kieran McGuinness, "sh*te". Presumably in the intervening 30 months they ran the gamut of "bad", "poor", "OK", "average", "decent", and "good" to where they currently stand now as one of the best unsigned bands in the country as I've been repeatedly impressed when seeing them play support slots for a number of bands the past 6 months.

They recently embarked on a nationwide tour which culminated in them facing up to U2 in a David and Goliath-like battle for the hearts and minds of Dublin's gig-going public in Crawdaddy on June 25th. Well not quite but they were playing the Harcourt Street venue the same night as Bono and Co. were making their second appearance at Croker. As it turns out they did pretty well for themselves as a very respectable crowd squeezed in to see them.

The night began impressively enough when I noticed that the band had invested in having their logo emblazoned across their bass drum. However such admiration faded upon closer examination when I realised that they had just cut the logo off one of their posters and roughly glued it on, fortunately this was the only thing remotely bush-league about the band that night. Taking the stage at a comparatively late 10:25 Delorentos blasted through a 35 minute set of angular indie-rock which was only hampered by its briefness.

The band have a very current sound and could easily be lumped in with the current crop of NME championed bands but while some of them come across as trying too hard there is no sense of contrivance from Delorentos, in fact the omission of songs like "Senses" and "Love" from the set shows that the band is willing to jettison crowd-pleasing material that saw them run the risk as being easily pigeonholed as "sounding a bit like Interpol but with more expressive vocals" for songs that provide them with a more unique voice.

"Belgium" is a wonderful two and a half minute slice of frantic guitar pop with a massive chorus that culminates by teasing an incredibly danceable bass riff that could form the basis for an entire song but here is just used to provide a pleasantly jarring change of pace for the song's outro. Other such hooks abound in Delorentos music with new song "The Basis Of Everything" a fine example of this.

But what makes the band really stand out is the approach that they occasionally take to their vocals. On most of their songs lead duties are split between McGuinness and R?? Yourell, the band's other guitarist. But on "Calling" and closer "Leave It On" they dispense with the traditional lead vocals/backing harmonies arrangement and sing as one, and it is at those moments that Delorentos are at their best. It's a unique idea carried out exceptionally well and really sets them apart from the pack.

Were it not for the set's briefness this gig would have rated a couple more tenths of a point higher but, besides that, it's hard to criticise it: this is a fine group with the potential to go a long way and with an appearance on CD:UK in the bag thanks to them winning "Best Student Artist" at the Lee Cooper National Student Music Awards. It might not be long before they receive more widespread recognition.
Ian Wright



Feel free to discuss this review on our Indie Music Discussion board.