Death in Vegas
Temple Bar Music Centre, Dublin, 11 Feb '00
Death In Vegas. A dance band you can't dance to or a rock band you can't rock out to?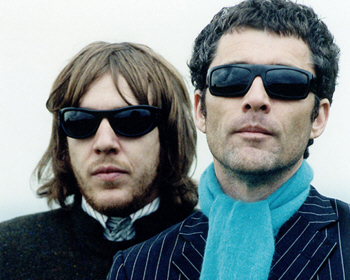 Along with D.I.V. main-men / DJs Richard Fearless and Tim Holmes there are seven other musicians onstage tonight. Amongst the mass are two guitarists, a drummer, a bassist, a keyboard player and a mini-brass section.
The thronged band is a welcome contribution to the live D.I.V. experience. The Contino Sessions, one of last year's unanimous critics' choices, is a vastly textured album, and the nine piece manage to create a broad enough sound to replicate the record's sounds.
Opener 'Dirge', with its watery guitar sound and minimal backing, takes ages to kick in. But when it does it's collage of white noise is awesome. Just about all of The Contino Sessions is aired tonight, from the violent, massive sound of 'Death Threat' to a distorted guitar-only version of 'Broken Little Sister'. A backing screen shows looped black and white images of marches and streetlights. These dull pictures are the perfect companion to the throbbing urban sounds onstage.
By the time 'Rekkit' from the 'Dead Elvis' album is aired (which, coincidentally is the first song it's possible to dance to), the crowd is a mass of bouncing energy. As with just about every D.I.V. track, it features intense feedback, but that feedback blends perfectly with the backing beats.
Surprisingly, 'Neptune City' proves to be the evening's high point. On the Contino Sessions it seems an anti-climactic closer. As a live encore it's glorious and triumphant. It's as if the last hour has been a battle, a struggle against the dredges of sound. However 'Neptune City' and its brass section inject a feel-good factor previously not evident in the evening's performance.
Death In Vegas ain't pretty. But then again, we don't want them to be.
Paddy McDonnell