David Kitt
Review of his gig in Vicar Street, Dublin, 12 April 2001
It was no doubt a very special moment for David Kitt as he took to the stage for tonight's Vicar St gig. What he saw before him was a full house of fans, friends and family, come to celebrate the release of 'Song from Hope St', Kittsers first major label single release. David Kitt will also shortly be releasing his first studio album - 'The Big Romance', which will be available through Blanco Y Negro on May 18th. It is rumoured to be a magical work, and anyone in the audience at tonight's gig will no doubt fully believe those rumours.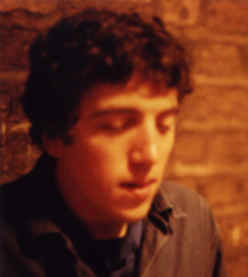 David Kitt has always been a live force to be reckoned with and tonight was no exception. There was something extra special in the air this evening though. An air of expectation perhaps. An air of hope. If David Kitt doesn't make a big impact this year I will be very surprised. Especially in the UK, where he has recently been supporting the likes of Tindersticks and Arab Strap to excellent receptions. He is a big talent - with a rich melodious voice and a skill for penning simple but gorgeous songs. His down to earth attitude and lack of pretentiousness add to his appeal.
Tonight we sampled delights from Kitt's forthcoming album, as well as his debut mini-album 'Small Moments'. There was also a few new songs thrown in for good measure. Highlights included the single 'Song from Hope St' a gorgeous laid back tune. 'Another Love Song' was performed tonight without the help of David's little brother Robbie, who normally sings backing vocals on the track. Support act Paul O'Reilly stood in for Robbie and ably filled his shoes. Kittser also threw in a dedication for all the people who came to the Whelans gigs, whilst welcoming the rest.
There was some beautiful and fragile moments during the encore, when Kitt played alone with his acoustic guitar. His two band members returned for 'Headphones' the last song on 'Small Moments'. Tonight the song developed into a cacophony of noise. Very interesting indeed. Overall this was a great gig, by a great artist. David Kitt is Ireland's big hope for 2001. Good luck to him.
Niamh Grimes

Also check out the review of David Kitt live in Kildare