David Kitt
Dingwalls, London, 8 July 2002
David Kitt has found love (well so he tells an audience of a couple of hundred present at this London gig) and has definitely managed to captivate the crowd in the process. Wistful, energetic and a slight bit tipsy, Camden almost feels it is in the presence of a God. This is a man who knows what he wants (he tells the front row of the audience to move to the back as they are not understanding enough of his music) and knows how to deliver (bar a few tuning problems which only aids his rapport with the audience).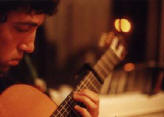 "I have listened to crap music for years" says David and even though we all agree, we feel an almost enlightenment as he bashes out his popular numbers from 'You know what I want' to 'Songs from Hope St.' A two minute rendition of Prince's, 'When Doves cry' makes us wonder where the quiet man has gone and this bewitching, playful passion has evolved.
I have brought a friend to tonight's gig - a thirty something English boy who has never heard of the Kittser until my pleading email begging for a companion for this gig. Earlier he asked me to describe the man and his music and in an effort to correlate him with the mainstream I suggest synergies with Coldplay and David Gray. Do I actually believe that? I am not sure but he agrees to come. Fifteen minutes into David's set, it is obvious my friend believes he is more than that, especially when he asks if he can buy his CD at HMV! My indecisiveness has too been replaced by complete admiration and I am secretly saddened he has found love.
The crowd can only agree with us as they shout for their favourite tunes, deliver words of praise and encourage banter with the man. He tells us he has been to London a number of times but never really enjoyed it. Compared to Ireland, The Guinness was not that tasty and the audiences lacked passion. But that has changed, he tells us, for both have improved. We believe him for he gulps the pints of Guinness and enjoys the crowd. Some even comment that perhaps David has improved also.
David Kitt has always been one to watch but when we all sing 'Whisper return the sun' together I wonder if we should pay even a bit more attention in future. A Big Romance could be about to begin.
Natasha Meaney

Check out anegative review, as well as apositive review, of David Kitt's album 'The Big Romance'


Also check out the review of David Kitt live in Kildare