David Byrne
Review of his gig in the Olympia Theatre, Dublin, 26 July 2004
"David Byrne should be recognised for the innovative genius that he is, and should be playing the RDS instead of Paul McCartney." Discuss.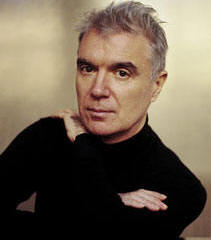 I'm sure that anyone that was present at this (packed to capacity) Olympia gig would be able to make a strong argument for the above statement. Dressed in a black boiler suit, the tone for the evening was set when Mr. Byrne arrived out to a minute long ovation at the start of the evening. Accompanied by a bassist, a string section, and two sets of percussion instruments, he opened with the opening track ('Glass, Concrete and Stone') on his latest album Grown Backwards. From there on in, the energy continued to grow, and the majority of the crowd spent most of the night on their feet, trying to match Byrne's idiosyncratic dancing style.

Byrne's quality and intelligence could be seen in both the continued high quality of his solo output, and the fact that (on my count) he sang in three different languages. And all this is before we get around to talking about the hits. These were played during the middle of the gig without the string section, but they lost nothing for it. 'Road to Nowhere', 'Pyschokiller', 'And She Was', 'Once In A Lifetime' were all played during this section, as was Road to Nowhere (which was cheekily dedicated to Bush and the Republican Party), and they all filled out the Olympia.

Byrne finished up with a divine (sorry) completely acoustic version of 'Heaven' and a ten-minute long version of his last hit 'Lazy'. The band then received their fourth standing ovation of the night. When they walked out to their initial ovation, Byrne claimed that they had got what they came for, by the end of the night the audience were undoubtedly in the same position.

Ciaran Wrenn

Feel free to discuss this review on our Indie Music Discussion board.