The Dandy Warhols
The Olympia, Dublin, 14th May 2003
After a shining performance at last year's Witnness festival, a new album just days away from release and the catchy new single "We Used To Be Friends" still ringing in my head, it was with a sense of eager anticipation that I found myself in the Olympia Theatre to see the Dandy Warhols. But - alas - things didn't get off to a great start. First off, I checked out the merchandise on offer to obtain a souvenir of what I hoped would be another great gig. That plan fell short as the only item on offer was an unimaginative white t-shirt displaying - in the finest of Microsoft Word fonts - the slogan "The Dandy Warhols Almost Everyone", which would probably look better placed on a Valentine's card. Or something. No sooner had I turned my nose up at that, I noticed there were posters everywhere saying "Please note that there is no support act for tonight's show" in spite of my ticket stub which stated "The Dandy Warhols plus Special Guests". All in all, a bad start.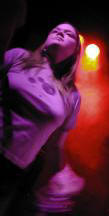 The Warhols opened with an intriguing hum-drum instrumental followed by the aforementioned "We Used To Be Friends" which got the crowd going, albeit very briefly. From the very beginning, you could pin-point poor sound coming from the mics and this made the oncoming set of new songs difficult to enjoy. But that wasn't the only problem. Sometimes it can be an atmospheric disadvantage when a band plays a gig full of unknown new songs from an album that has yet to be released and this proved to be the case as the night went on. Courtney Taylor-Taylor's egotistic banter in between songs about his new haircut and whether he should wear it to the left or right was no more effective in charming the crowd than the images of half-naked, muscle bound men and women dancing on the screen behind him. When members of the audience started shouting for "Godless", he jokingly replied; "I've a request of my own: why don't you just fuck off and let us play what we want to play?" He probably should have followed the audience's advice.
All of this made for a somewhat mediocre set with sparsely populated pointers to write home about, namely "Solid" and "Horse Pills" from the Bohemia album, and "Every Day's A Holiday". They also played the excellent "Mohammed" in a very kicking fashion with an amped up lead guitar and it proved to be one of the night's highlights.

In the end, it was the encores that salvaged the night. The earlier requested "Godless" got everyone back on course. When Taylor-Taylor announced that there were stagehands everywhere pointing at their watches and he asked what they should play, it was obvious that their biggest hits "Get Off" and "Bohemian Like You" would follow. Predictable, but enjoyable. They finished off the 2 hour set with a similar instrumentalist hum with which they'd begun but this time a handful of lyrics were droned out by Taylor, the last of which was "The pleasure and the privilege are all mine". After a gig filled with as many holes as this one, the pleasure may well have been his and his alone.

Jimmy Murphy

Feel free to discuss this review on the CLUAS Discussion Board.