Damien Rice
Limelight, Belfast, 15 December 2002
After support act Mouse failed to ignite any real passion (perhaps because her set was very short and the volume too low), excitement was running high in the shockingly busy Limelight on a cold Sunday night.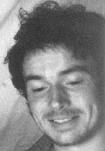 I have to admit I never realised Damien Rice had such a large following up here. Met with thunderous applause Damien (with drummer Tomo and vocalist Lisa Hannigan) strolled onto the stage and after a few mumbled words launched into the much-loved b-side 'The Professor'.
'Eskimo friend' is probably my least favourite track on his otherwise sparkling debut album 'O', but tonight it sounded more pronounced and had a greater reaction when it was played with more zest.

Damien's relaxed natural connection with the crowd seems to come from the same stable as Glen Hansard. It never seems forced or scripted and ensures the crowd are on his side. The old style egomaniac "tortured genius" artist, who ignores the crowd, has become very tiresome in recent years and it is nice to see new acts coming through who are not afraid to show their appreciation to the crowd.

Disappointingly very little new material was played apart from a rather bouncy fun little tune, mocking how some musicians "talk from their arse" and take the music business too seriously. Not really an indication of the rumoured darker direction he is taking with the next album.

After a 10 second break the trio took to the stage again (what ever happened to long breaks before the encore?) for the melodic, pleasant 'Cannonball'. This was played surprisingly poorly. It sounded rushed and impassionate. Luckily the night was saved with the crowd pleaser 'Blowers Daughter' with its infectious line "I can't take my eyes off you". This simple but effective phrase is sang repeatedly throughout the song and has made a permanent imprint on my brain ever since I first heard it.

Finally the aesthetically pleasing Lisa rose to the front of the stage. Up until this point her role had been to be the provider of some astoundingly beautiful backup vocals. However it was only when she took to the mic on her own, with no music accompaniment, to sing the rather apt 'Silent night' that her true talent came to light. As much as I love Lisa singing with Damien, it is clear she is destined for bigger and better things. I just hope her talents are not stifled and confined to being a backup singer.

I have seen Damien Rice live twice in the past year. Both times a full band complimented him. This was the first time I had heard the songs in a stripped down way. Although it was entertaining and different, in my opinion his songs definitely deserve the richness that the rest of the band brings. Nonetheless it was an enthralling concert that kept the devoted fans happy and must have won him some new converts!

Graham Smith

To buy a copy of Damien Rice's album 'O' on Amazon just click here.


Check out theCLUAS review of Danien's album'O'


Check out a CLUAS interview with Damien Rice