The D4
The High Stool, Limerick, 24 September 2002
They may steal licks from Keef and attitude from the Stooges. Jesus, even the bass player's haircut looks like it was robbed from The Ramones; but The D4 still make an impressive live proposition. The Auckland group has been hailed by many as one of the fore runners of the current garage rock/punk rage.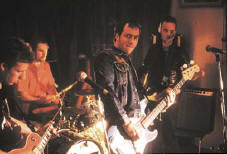 In tow with the Aspersion Music Collective's policy of value for money, we are delivered with two support slots from highly rated young bands. First up was local noise merchants Atrophy. Fresh from demo sessions with Mark O'Connor, they emerge with a revitalised version of "All About You". As the set progresses, it's obvious that these guys like their solos. You could nearly go make a cup of tea and come back, and they'd probably still only be halfway through one! The escalating crowd seem to like them, and Atrophy seem to like the crowd. Result!
Upon hearing an early demo from Berkley, quirkily entitled "The Best Of", I felt that they were a really ordinary band. However, it seems that their new producer, the legendary Steve Albini, has given them a good ol' hardcore kick in the nads, resulting in the formation of a totally superior outfit to last year's model. Sounding a bit like Jimmy Eat World (who they have supported), Berkley could be classed as "emo". They have formed a tight and flamboyant group, whose time in the States has taught them a thing or two about playing live. They seem humbled by the great crowd reaction, many of which must be looking forward to the release of their Albini-assisted debut LP.
However, there would be no prizes for guessing who would be crowd favourites. Arriving on stage with "Rock and Roll Motherfucker" from their debut L.P "6Twenty", dual front men Jimmy and Dion are the catalyst for all crowd interaction. They immediately urge the crowd to get more into the gig. Meanwhile, bass player Vaughn just does what lots of bass players do by looking cool and keeping his mouth shut. As with much of these garage-type bands, The D4 sound far better live than on record. Tracks like "Come On" and current single "Get Loose" (which incidentally isn't on "6twenty") are some of the night's highlights, with a fair portion of the audience singing along to The D4's feckless attitude. However, they don't seem to match "Party", which is about as decadent rock and roll as you can get. And the crowd loved it!
Indeed, the whole D4 live experience is a party from start to finish. Songs are usually under three minutes, fast and sweaty. It's obvious by their level of showmanship that they are used to playing larger venues. Yet, that doesn't stop them from dipping their performance. They may not be the world's most original or imaginative act, but The D4 - if you'll excuse the clich?- brought rock and roll back to town.
Ciaran Ryan