Christy Moore
South Court Hotel, Limerick, 13 November 2003
A windswept, wet, November night greeted Christy Moore when he visited the South Court Hotel in Limerick, and though the wind howled outside, the reception he received inside the hotel was much warmer. Out to see him were young and old alike. Two women in their 70s sitting to my left were discussing this "new" guyDavid Kitt, who will hopefully get as good a welcome when he arrives here in December. Unfortunately the set-up of the venue wasn't the most conducive to an intimate style gig with a stage at one end of the room and rows and rows of seats stretching all the way to the back, but luckily we found seats near the front. Seating arrangements aside, it was a thoroughly enjoyable night and Christy put on one hell of a show.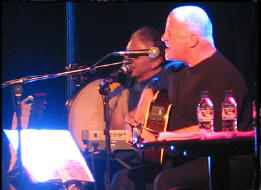 Siobhan O'Brien provided support with her guitar and harmonica combination. She served up some nice tunes but had to force her voice a little to fill the large function room. She played her own 'Guilty of Despair' to start and did a cover of Sting's 'Fields of Gold' during her set, before finishing up with her own song entitled 'Blah, blah, blah'.

Christy, clad all in black, arrived promptly on stage (allowing no time for a quick dash to the bar), flanked by Donal Lunny and Declan Sinnott. He began with 'One Last Cold Kiss' and a hushed silence descended on the room, such is the power of his presence. However you view him, his influence on contemporary songsters such as Glen Hansard,Damien Dempsey and Paddy Casey is blatant. Maybe it was because I had seen Damien the previous night, but the similarities in style and performance are obvious.

It was always going to be difficult to satisfy the crowd, with a repertoire spanning over 4 decades, but he did his best to please everyone - almost becoming a human jukebox by the end of the night. He dedicated 'January Man' to Siobhan and thanked her for her support set. Then played 'North and South of the River' from his album 'Graffiti Tongue' accompanied by some superb electric guitar by Declan and subtle rhythms on the bodhr? from Donal, with Christy whispering the key changes to them mid-way through the song. With his unaffected air and broad smile he looked completely at home on stage.

He spoke of visiting Limerick in the 1970s and playing venues like The Savoy, which he believed, was one of the best venues in the country at the time. This was greeted with loud cheers from the Limerick contingent and so he continued with 'The Voyage' written by Johnny Duhan from Wolfe Tone Street in Limerick. He delivered this well known song in his own unique style and the audience managed to resist the temptation to sing along, though most knew all the words, until the last chorus when Christy invited everyone to join in. This line of song was going down so well he continued with the tune 'All I remember', also written by a Limerick man, Mick Hanley.

Then to change pace he introduced his next song with "this wasn't written by anybody from Limerick at all but you're a good old crowd here, ye'd listen to anything," before launching into 'This is the Day' and then 'Continental Ceile', which had the room laughing along with the lyrics. Next up was the Jimmy McCarthy song 'The Contender' about the athlete Jack Doyle, a man who knew the two sides of fame and failure and died, down and out, in London. Christy's heartfelt portrayal of a man broken down turned the room once again into a silent cavern. He continued with another serious themed song 'Yellow Triangle' about the holocaust and damning silence that surrounded it.

Then the request show really kicked in. 'Black is the Colour' for a woman from Greystones, who was very vocal in her desire to hear it. It was a quiet, delicate interpretation of the timeless classic, to rival Nina Simone's performance of it in the Point in 1999. 'Go, move, shift' with slide guitar from Declan, then a beautiful rendition of 'Beeswing' strummed on his guitar and he thanked the audience for their patience when he had forgotten the words at the start of the song. Another request, 'Bright Blue Rose' was sung on a stage bathed in shimmering blue lights, followed by Joni Mitchell's 'Magdalene Laundries' which Declan informed us was from her 'Turbulent Indigo' album. A request for 'Fairytale of New York' was also satisfied and accompanied by a funny, personal story about Shane McGowan. It brought the house down, no one held back, every word of the song was sung along with Christy. Then the legendary 'Nancy Spain' and football inspired 'Joxer' (supported by his "cornerbacks" Donal and Declan) as he delved further into his back catalogue.

On 'Lisdoonvarna' it was almost hard to hear him over the crowd who sang every word in time to the beat of Donal's bodhran. It's a song that has stood the test of time and he finished it with a smart comment about the Clare County Councillors who had prevented the Lisdoonvarna festival happening in its hometown, forcing it to be moved to the RDS in Dublin. With a standing ovation he left the stage and returned to play 'Sonny' and a storming 'Ride On'. Definitely a night not quickly forgotten and with Planxty reforming and their planned tour in the New Year, fans won't have long to wait before they see Christy back in this part of the country.

Check out a review of Christy Moore Live with Declan Synott, Donal Lunny & Luka Bloom at this hometown venue in 2004.


Check out our other articles on theIrish Folk Music Scene.