Christy Moore & Declan Sinnott
Review of his gig in Vicar Street, Dublin, 30 December 2002
"I told you Declan, there'd be a good crowd". So went the first words Christy Moore uttered to Declan Sinnott as he played his final gig of 2002 in Vicar Street. It then fell to old favourites 'January', 'Lawless' and 'One Last Cold Kiss' to help him settle the early nerves.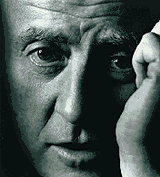 Immediately Declan was indicating to the guy at the sound desk that the speaker to his right was too loud for him, but the engineer wasn't getting the message so Declan had a word in his ear, Christy jokes "Declan's just ordering supper. What do you be talking to him about anyway?" he adds.
"This next song was written by Johnny Duhan, and he sent it to me in the 80s but at the time I'd a lot of anger inside me, and I wasn't in the mood to record a love song. Then the anger receded a little bit, and then a bit more, then my hair fell out". 'The Voyage' followed.
After 'Biko Drum', Christy explained that he'd recently played in Armagh for the first time and he played a few of the songs that were requested at those shows. Included were 'Go Move Shift', 'North & South of the River' and 'Veronica'.
He dedicates 'Black Is The Colour' to his Scottish friend 'Hamish', whom he'd got the song from many years ago, and who died the way he'd have wanted to according to Christy.
"I was in Los Angeles for the first time and I was really excited (even if I was 40) in a place called Culver City and I got this song from an Irish guy called Colm Gallagher. I asked him for it, and he said I could have it as long as I always asked the crowd not to clap whenever I sang it, so now I've done it" he says before launching into a rare live performance of 'Reel In The Flickering Light'.
"If you're heading up through Marino later on, you might hear this song because the writer lives there. Wally Page wrote this song in 1978 in Killary Harbour. The song in question? 'So Do I.' He continued to please the crowd with 'Viva La Quinte Brigada'.
"I sang this next song in Sydney for 100 people, 98 of them fell asleep, and two died" he joked before singing the ballad 'John of Dreams'. Noel Brazil's 'Metropolitan Avenue' and Luka Bloom's 'City of Chicago' followed.
When someone suggests a Luke Kelly song, Christy tells us of his first meeting with Luke back in 1967."I was queuing to see The Dubliners play a gig and Luke spotted me in the crowd and brought me inside. I stayed the night drinking with them and when I woke the following morning, they were gone, but he'd left me a €5 note. Now there was a decent man". He dedicates 'Yellow Triangle' to Luke, before proceeding with 'Missing You'.
During 'Ride On' we have an unusual incident when a fire alarm goes off during the instrumental break in the song, and all Christy can say is "beautiful". When they get to the end of the song, he compliments Declan on not missing a note during the disturbance. "I love working with this guy" he says. "I've heard some mobile phone tones in my time, but that beats them all. If that phone was set to vibrate, it would have blown the feckin' leg off ya" he added, to great laughter.
At this stage the requests started to come up thick and fast, each song suggested getting a reply of "yeah, yeah, yeah, we'll do the whole feckin' lot of them in a medley".
'Don't Forget Your Shovel' turned into a variety of songs. The 10-minute piece included a spoken piece about Prince Charles, a song about the Enniskillen victims called 'Let Us Remember', a few funny comments about Daniel O Donnell, and back to the Shovel again to finish off. 'Joxer Goes To Stuttgart' was a pleasant inclusion, and 'Nancy Spain' and the beautiful 'One Bright Blue Rose' ended the two-hour set, but Christy always gets an encore.
"It's strange how things happen. A few weeks ago Debbie Harry was on this stage and I was up there (pointing to the balcony). Now tonight I'm on this same stage? and I haven't a clue where she is" he laughed.
You could listen to his witty comments all night, but it's the music that speaks volumes and 'Before The Deluge' and 'Lisdoonvarna', complete with a new lyric "Sean Doherty goes down on the Rose of Tralee" ended a fantastic night.
Once again, Christy has excelled himself. Just when you think you've seen it all, he just keep producing something extra special.
Mick Lynch

Check out our other articles on theIrish Folk Music Scene.