Boz Scaggs
Review of his gig in The Village, Dublin, 22 July 2003
The mods got it right: looking sharp and knowing what you're talking about is where it's at, Daddy-o. It's a sultry Tuesday evening in the Village in Dublin and Boz Scaggs, middle ranking rock icon, is visiting here for the first time. And he is looking very sharp indeed.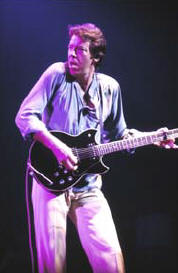 Scaggs has been recording for the last 30 odd years but his major seller was (and still is) 'Silk Degrees', a mid 70s piece of blue eyes soul (the backing band later morphed into the appalling Toto, but Boz was not to know). 'Silk Degrees' is packed with timeless classic tunes - 'What can I say', 'Lowdown', and 'Lido Shuffle' still fairly swagger while 'Harbour lights' is a master ballad. His recording career has been patchy since then but Scaggs recently took the risky step of releasing a collection of jazz standards. It's a potentially perilous move but the stakes are high. If it works you can relaunch a career, à la Tony Bennett, if it bombs and you've one foot in the grave. Some time back Bryan Ferry did the crooner thang very creditably with a typically elegant collection of 30s numbers, while Rod Stewart made a predictable pigs' ear of his attempt at the genre - his ghastly version of 'These Foolish Things' is the musical equivalent of root canal surgery.
Scaggs is not a poor man, the royalties are still coming in ('Silk Degrees', 'We're all alone' is a slushfest but has been covered by the world and his MOR wife) and he makes plenty of moolah away from music. Boz is now weathered, slightly academic, but polite to a fault. Mid gig, he tells us he's just released a new CD but neglects to tell us its name ('But Beautiful', fact fans).
As I've said, the jazz standards route he's following is a tough one but he carries it off, just about. His voice is no thing of beauty, it's sometimes brittle, more often than not it's dustbowl dry but it's a perfect counter to the sweetness of songs like 'Bewitched, Bothered and Bewildered'. Scaggs is somehow pitch perfect throughout, he has a good sense of phrasing and his taste in covers is spot on, avoiding the obvious and suiting his own range and tastes. Granted he gives us glorious versions of 'Lowdown', 'I just go' (a great take on filial neglect), and there's a shimmering version of 'Harbour lights'. However the bulk of the gig's material comes from the new album.
For the most part the arrangements are clipped and economical, though he indulges his supporting combo. Monet, his supporting vocalist, gets a couple of numbers on her own, and the band drags 'Simone' into what seemed like the next century. It's a blip though, and as the evening flies by classic follows classic - 'What's new' and 'How long has this been going on' are standouts.
Scaggs smiles the shy smile, when particularly pushed he plays some dazzling guitar lines and the band are as cool as the proverbial fridge. Three encores later I bump into the man himself, shake his hand, tell him 'it's been an absolute pleasure'. And I mean every word of it.

Anthony Morrissey