Bob Dylan
Nowlam Park, Kilkenny, 15 July 2001
A million articles have been written about why Bob Dylan is a legend and the most influential songwriter ever, etc. When 'His Royal Bobness' plays in Kilkenny and is joined on stage by another legend, Rolling Stone Ronnie Wood, it is probably safe to speak of a historical event, or something. So yes, here it comes, article number 1 million and 1.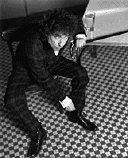 Before Dylan hit the stage the crowd was warmed up by Elvis Costello, Juliet Turner, The Blind Boys of Alabama and The Frames front-man Glenn Hansard, among others. Hansard deserves a special mention, because, for me at least, he played as if this was the last gig of his life. And I am still trying to work out how he managed not to break any strings such was the intensity of his playing.
Dylan himself kicked off in a quiet mode with two acoustic songs. While not reputed to be a great lead guitar player, Dylan played some solos surprisingly well. A bigger surprise however was the sudden appearance of Ronnie Wood. The band, who at the start had sounded like a acoustic combo, now turned into a blues band on fire with four electric guitar players. And the repertoire got more bluesy: 'Leopard Skin Pillbox Hat', Maggie's Farm', 'Mr. Jones', 'Tombstone Blues' and 'Highway 61' to name but a few.
It was however soon clear that Wood hadn't been practising with Dylan's band. Time after time he walked over to the other guitar players during the intros with a face that said: "Which song is this, which key is it in and, uh, how does it go?''
Some fans of Dylan's folk recordings must have been disappointed - he only sang two songs from his pre-electric era ('It Ain't Me Babe' and 'Desolation Row') and in such an unrecognisable version that it was hard to enjoy them. Take for instance 'It Ain't me Babe' - during its chorus the crowd tried to sing along as per the original version while Dylan stubbornly stuck to his odd improvised melody. It was hard to tell who was embarrassing who.
With a Rolling Stone in the band the encore I suppose had to be 'Like A Rolling Stone'. "When you ain't got nothing, you got nothing to lose, you're invisible now, you got no secrets to conceal", Dylan howled and the crowd howled with him, as if this was not a 36 year old song, but a truth they only found out yesterday.
Stan van Haasteren