Bob Dylan
As we all know, the Point sucks like an open chest wound. The frankly bizarre rule that you cannot drink, not even from plastic cups, in the auditorium just doesn't sit well with the hedonistic, bon viveur, man about town in me (curse their lack of business acumen). So, I find myself in no rush down there, preferring to reminisce on Dylan's last triumphant gig here almost 2 years ago in the comfort of a dockside hostelry. And what a gig that was; Dylan, on top of his game, touring the acclaimed "Time out of Mind" album and belting out new arrangements of classic after classic from his halcyon days. Of course, this is tardiness the first mistake of what was to prove a disappointing and annoying night.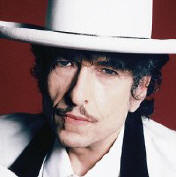 I got to the Point at 8:30, only to find that the support act was a no show and the Man has been on stage for a good fifteen minutes. What the..? 8:15 kick off? Not cricket, my friends, I'm not happy. All is not lost though, you can always rely on Bob for a long set. As I get settled in a spot towards the back, two things become apparent, first is that Bob is playing a keyboard and the second is that I have no idea what song he is playing. Now, I'd be fairly familiar with his work but with such a vast back catalogue, you'd expect a few tunes you've never heard. That said, I would have thought the chance of him getting through another two without a glimmer of recognition was quite unlikely. It is about this time that I notice that there is no microphone setup in the middle of the stage, so it looks like Bob is playing keyboard for the night. This is a major disappointment as one previous outings, I had forgiven him many a bad vocal for the quality of his guitar playing. It is now that I realise why I haven't recognised many tunes. Bob's vocals are the most raspy, guttural whine I have ever heard.
Now many are those who would describe his singing that way at the best of times, but this was so bad it sounded like it was coming through a voice box. Mix this up with a distinctly Vaudeville re-interpretation of many of his classics and the whole set very difficult to digest. Only the brilliance of the musicians around him lift proceedings, particularly the encore of "All Along the Watchtower" and "Like a Rolling Stone". Everything is done and dusted well before eleven. I trudge back towards town on the one hand pretty disgruntled with the night's proceedings and on the other thankful that I did get to see Dylan at his best. Given the current evidence, his never ending tour is grinding to an ignoble halt.
Epilogue:
The following morning, I am amazed to see Dylan's voice described as "a rich, life filled growl" in one of our esteemed broadsheets. I begin to wonder if I was at the same gig? Perhaps I was in some kind of aural vortex in the Point? This is soon followed by the news that Bob's next outing in Cork has been cancelled due to severe bout of viral laryngitis. For that I am pleased, it would be a tragic end to a career if that was the general quality of his voice. Of course, I am also as mad as a bag of otters with the promoters; there is no way he should have performed and I should have been spared my 50 lids for a clearly sub standard show. And as for those of you who kept your money to see Bowie the following weekend, damn you all to hell!
Brian Farrelly

Check out the CLUAS review of Bob Dylan live in Kilkenny in 2001.


Check out the CLUAS review of Bob Dylan's album 'Live 75: Rolling Thunder Revue'.


Check out the CLUAS review of Bob Dylan's album 'Love and theft' (released in 2001).