The Black Eyed Snakes
Review of their gig in Whelan's, Dublin, 31st March 2004
The Black Eyed Snakes? Some sort of Black Eyed Peas tribute band? Fortunately any similarity between the two groups ends at the name. This is Low front-man Alan Sparhawk's side project - a manic fusion of rock/blues noise. A white heat of sound. Two guitars, drums and a percussionist; who just happens to have his own bass drum (flat on the ground) and wallops it with mallets. The guitarists themselves played while sitting on chairs. No bass.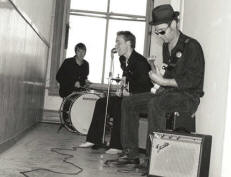 And the gig was loud. The drum sound for one was mammoth - similar to Led Zeppelin's drum sound on any of their albums, but transported to a live setting and magnified ten fold. The audience there to witness this however was small - less than 50 people in fact (including bar staff, sound guy and support acts turned eager listeners). We ringed the Whelan's floor, hugging the walls. The open centre of the floor was a clear no go area. Barren. Desolate. Yet filled with an almighty crescendo of aural delight. The BES also happened to treat the crowd (more like a small gathering of curious onlookers) with the most pumping, adrenalin-driven version of 'I Want Candy' that ever graced these ears. While contained within two particular songs were two of the most slow-burning build ups; each slowly gathering a fury and momentum before arriving at a climax of noise. The resultant explosion almost didn't do justice to the build-up that preceded it. Almost.

The band itself was consumed by Sparhawk's direction. During the final song (and one of the above mentioned build ups) he urged his band mates to give more. Yelling at them above the growing swell of noise, 'MORE! MORE!' The drummer's hands became a blur. The crowd applauded and cheered, belying their paltry numbers.

Then, the band packed up their own gear. No roadies here. No basking in the glow of a gig well done. It was an almost surreal demeaning of what had gone before. The ignominy of packing away your own stuff, as you shuffle about the stage just trying to get off it as quickly as possible, brings with it a kind of reducing quality - a humble essence. Such was the silence between songs that one could hear the 'ching' of the cash register and the beat of music coming from the Whelan's bar - 'Wednesday night Fever' as Sparhawk joked in the cavernous quiet.

And did I mention the support of Charlie Parr and Tigersnake? Two quietly intriguing acts...

A hidden gem of a gig.

Barry Bracken

Check out CLUAS.com's interview with Alan Sparhawk from March 2001.


Check out a review of Low live in Sydney in February 2002.