Belle & Sebastian
Review of their gig in the Olympia Theatre 28 April 1999
A band that takes its name from a French children's television cartoon about a boy and his dog, Belle & Sebastian last night treated an adoring Olympia audience to something that was pretty far askew from the normal. The Glaswegian octet played a gig (one of the first they've ever played outside the UK) that had even the most hardened Olympian murmuring "What was that all about?" or " Did you enjoy it? .... I think so....." Belle & Sebastian have sneaked into the more discerning record-buyer's consciousness over this past year with the release of their third album, The Boy With The Arab Strap. They even stunned the mighty STEPS by winning the Best Newcomer award at last year's BRITS ceremony, prompting Pete Waterman and Jonathan King to splutter "...but we haven't even heard of Belle and.....whatever.... It's a travesty!". With minimal press coverage, no hype and only the beauty of their timeless, endlessly fascinating pop-folk treasures, B&S had beaten the industry at their own game....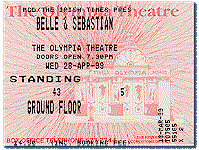 The support act, Snow Patrol, from Belfast confidently dispatched their brew of ragged guitar, punkish vocals, driving drums, spoken word samples and scratching with aplomb, all the while admonishing the audience for being in "work-mode". It's hard to imagine a more unsuitable warm-up for B&S... presumably that's why the contrary feckers chose them. B&S ambled on stage to an almighty cheer and, instead of the more customary roar into the first number, they proceeded to nonchalantly warm up their instruments before the octet's breezy melodies and Stuart Murdoch's melancholy vocals soothed the restless audience. Murdoch is confident enough in his talents that he's let other members contribute songs -- Isobel Campbell brings in the lilting "Is It Wicked Not to Care" and guitarist Steve Jackson has two songs, "Seymour Stein" and "Chickfactor," both incisive music-biz commentaries and both highlights on the night. The musical merry-go-round between numbers was endlessly fascinating ( typical combination - bass, acoustic, electric guitars, drums, cello, violin, piano, French horn!! and any other combination of trumpet, triangle, Hammond organ, recorder or ,bizarrely, xylophone... It looked like no-one was willing to play it for more than one song (hardly surprising), so they have to keep changing round. A bit like when you're playing football with your mates and nobody wants to be goalie... ).
As the NME has pointed out, there really is very little point in taking Belle & Sebastian to task for being 'mimsy'. This is rather like berating Black Sabbath for being a bit 'metal', like suggesting that Brian Molko looks a bit like a 'girl', like having a go at Jamiroquai for being a bit of a 'tosser'. It really does not matter..... What matters is the music. Tonight hey finished the show with a rollicking The Boy With The Arab Strap. Indeed, it seems from the setlist that they finished a little prematurely, presumably something to do with the tantrum Murdoch threw during the penultimate song when he extravagantly smashed his acoustic guitar, sat in the corner, was consoled by his band members before abjectly apologising to the audience. Very Belle & Sebastian.....
Stephen McNulty