The Bees
Review of their gig in The Village, Dublin, 20th February 2005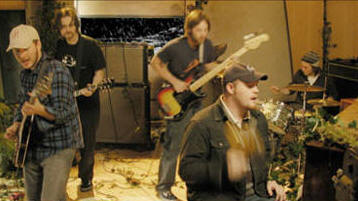 Review Snapshot:
After rescheduling this gig, The Bees didn't disappoint their growing legion of fans thus entertaining them with a vigorous performance including many songs from last year's excellent 'Free The Bees' album.

The CLUAS Verdict? 8 out of 10

Full review: Local garage rock merchants The Urges opened the night with a hatful of their lively tunes. As the venue started to fill slowly, frontman Jim Walters buzzed with an energy that seemed to be lapped up by the crowd. The vibrant 'Stay Away From Me' acted as the perfect intro to 'Don't Lead Me On' - a more poppy fusion of the garage rock that they effortlessly master. Their allocated time quickly ran out but they did impress the large majority. Big things can be expected in the future from this band.

As they leisurely strolled onstage to take up their instruments, The Bees looked like a commune of lost hippies. Evidently they sounded like they looked - laid back, funky and mellow; all the while, commanding their instruments with a stylish proficiency. The atmosphere from this rescheduled gig took its time to build up but as soon as more familiar tunes like 'Wash The Rain' and 'One Glass Of Water' were rolled out, the crowd bounced with enthusiasm. Each member of the band rotated around the stage, swapping positions on drums, bass and keyboards on different songs. With each song came a more upbeat execution, which transcended into the atmosphere being raised a little higher each time. The band looked like they were having fun. And they were encouraged further when the crowd howled at the opening chords of 'No Atmosphere'. The songs that the band has, especially those off last year's 'Free The Bees' album, contain a sunny tenderness more often associated with The Byrds. This tenderness leaked from the band and struck the crowd like a slight electric shock, exciting them with their mini zaps of energy.

Behind the band was a screen, which projected graphics of six hot air balloons floating across countryside. These easygoing images worked well with the slick 'Horsemen' and the charming 'These Are The Ghosts' providing a pleasing soundtrack to the projections. Then the levels of fun quickly shot up when 'Chicken Payback' was unleashed to the joy of the crowd. Even the doorman was slightly waddling to the beat. No one wanted the gig to end. Although, it turned out to be a short enough set that saw The Bees bow out to rapturous applause and smiling faces. Hopefully they will be back in the summer with some new material.
Gareth Maher



Feel free to discuss this review on our Indie Music Discussion board.