Barbarella
Review of their gig in Eamonn Doran's, 17 Sept. 1999
Nine to five, I hate it. A woman threw herself under the DART in Monkstown a couple of Mondays ago. If she'd got through a couple more hours she might have been OK and laughing again on Friday.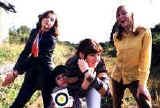 That's the feeling. I'd developed a taste for Jack Daniel's at closing time last Saturday night, and had been waiting for it again all week. Jack D and Coke Molli says tastes like a party. I had just been too good for a couple of weeks and it was time to treat myself and blow forty quid on alcohol and taxi fares and cloakrooms and cigarettes you only give away and lose.
Eamonn Doran's is alright. They were still playing pool when I got down there after eating chips and ironing my most dandified shirt. Just what I needed, a generic rock bar with hair and all. I sat at the bar by myself ordering expensive pints of Heineken to line my stomach for spirits later.
As it is their privilege Barbarella are sitting in the backstage hole in the ground. They point out their own bit of graffiti.
"We should do it in big red paint backwards, the R's and all, like 'Red rum red rum'. That'd be cool.' Everyone cracks up. I'm not drinking my Heineken fast enough, so I go back to sit at the bar. There's some guy everyone says 'HI' to drinking by himself as well. He asks a Scottish couple to mind his drink as he goes for a piss. The woman asks her boyfriend what he said and they go back to watching the pool.
'There's a band and all tonight. They usually kick us off the pool table at half eight but we'll play as long as we can.' This guy is delighted with his small rebellion in the rock bar he hangs in, playing sharp pool. It's his, he's got some privileges, like the band.
Two people I recognise come to see the band are early. Beautiful, pert-fect, her eyeliner is from Biba pictures, she's Mary Quant. Her face suits it. His hair is spiked. His Harrington is crisp. I can't remember her name, but I say 'hi' and kiss her on the ear. Am I drunk already?
The soundcheck. One drum goes on and on. A clever drunk man claps and says 'She's not bad for a girl' and gets more enthusiastic as she runs through the toms.
The hired bass amps cause problems the sound engineers have to deal with, but new guitars send flashy disco sparkles across the ceiling when the light reflects off them. Emma has put glitter on her hands to enhance her playing. Solid riffs for the soundcheck - nothing cool in case anyone wants to be impressed later.
I missed it when they took the pool table strip light down and put up a mirror ball. And when the people I was going to drink with arrived, they were just there, the mirror ball turned on.
The DJ starts. I've had that tune in my head since then - 'You Know How to Love Me'. It's great and old and disco and catchy. Like a Primal Scream ballad or a Carry On movie theme tune, it makes you feel all good and warm.
Barbarella play rock'n'roll very well. They got a hint of soul, it's hard driven Faces kind of stuff, with some big power ballads that girls sing well. They're tight as hell, hit the drums harder, sing higher and build up to crashing crescendos about how I'm just a fool for lovin' you and I should get a real man and when I'm out on the town looking great with my girls you wouldn't want to mess with me because I'm untouchable. Thank You.
The next song is about boys too.
Molli (who likes Jack Daniel's) looks like Jim Morrison tonight - Indian Bead Choker and jet black hair framing black eyes. She moves her hand with the notes properly and her husky sexy voice that gets pure and sweet when her arm moves over her head. All the right moves and fantastic presence, she's an undiscovered star. She's the one we're all looking at.
Lia, the drummer, wears a dog collar. She's the punk tonight. She's the badness in the band, the angry energy, good for a drummer to have. She's the one that kicks over the kit at the end so there won't be an encore.
Mags, the bass, is just cool.
Emma holds things together, plays the guitar and tells Molli she's a fool. Her voice is opposite, just bright and clear for those high harmonies and her new guitar gets tuned quickly between songs. She's perfection.
Forty-five minutes of original classic pop, is just right. Drunk and over-excited I shout at them, 'Ye're all bitches? bitches.' 'Shut up Jack Murphy' Emma says. It's too cool, I have to add my bit, have to be involved.
The band finish, two girls in matching black get straight on the floor and dance together to 'Hideaway'. Lots of guys with no hope stare and try and get it on, shuffling around them as they move out of eye-line and laugh at each other. I dance with them - they know my girlfriend - and I provide safe eye-line so they can show off on the sly to the other boys. Makes me look good too.
'Where's me f**king jacket. We're not leaving without me f**king jacket!' Twice around the bar, between stranger's legs, consider stealing someone's coat, a girl looks funny as I look under her bag. Go to the cloakroom, tell the girl there it had sentimental value, find it, go back to her, tell her she was very kind for being concerned and split with Mags, carrying her bass.
In the taxi queue I pretend to be Mark King from Level 42. 'These thumbs are insured for a million pounds.'
A smart arse offers to cut them off for me.
Jack Murphy