American Music Club
Review of their gig in The Village, Dublin, 3 October 2004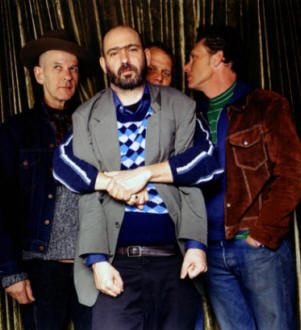 Review Snapshot:
In a year of amazing comebacks and successful, hatchet-fully-buried reunions the return of American Music Club sent many a true music fan into rapturous delight. Their recent gig in the Village was a nicely balanced run-through of their redoubtable back-catalogue and and a selection of new songs that reveal that the magic is still there. Welcome back, Mark Eitzel and American Music Club...

The CLUAS Verdict? 9 out of 10

Full review: One day, a long time ago, a friend made up a compilation tape for me. Such was his impeccable music taste, this now seminal tape introduced me to the likes of Red House Painters, Felt, The Replacements, The Pastels and... American Music Club. Despite the esteemed company they were in, it was AMC I kept returning to again and again. They had a strange, probably unique sound: an odd mixture of drunken bar-room blues, skewed alt-country and off-kilter, doom laden yet melodious rock. At the heart of this was Mark Eitzel, chief songwriter and emotional epicentre of the band. This was a man who seemed to reluctantly carry the weight of the world on his shoulders. He could also write lyrics that were, at once, heartbreakingly sad yet laced with a wry, self-mocking humour.

So seeing Eitzel in the flesh is a bit like seeing your favourite uncle, whom you once thought had met his demise many years ago, is actually very much alive. He projects such a compelling onstage presence you can, at times, forget this is actually a reformed AMC show, not an Eitzel solo outing. There's Tim Mooney and Dan Pearson providing the no-nonsense rhythm section and to Eitzel's left the mysteriously monikered, frighteningly thin Vudi, throwing out strange guitar shapes to compliment Eitzel's soaring melodies.

Eitzel assures us early on that they're not one of those bands "that pisses off the audience by just playing new material" so we're treated to a generous re-visits of past classics. The wonderful 'If I Had A Hammer' still sounds as vital as it did on that tape, the bruised splendour of 'Sick Of Food' still enthrals and 'Western Sky' is still quite possibly one the most beautiful, perfectly composed pieces of music ever created. There's a new political anger here too, evident in new songs they play from their recently released long-player 'Love Songs For Patriots'. On 'Ladies and Gentlemen', it's interesting to see Eitzel, like so many other American artists and musicians at the moment, taking a break from singing of their own personal woes and instead turning their attentions to what the morally bankrupt Bush Administration is doing to the world.

For the encore there's a blistering, thunderous run-through of the brilliant 'Challenger' and that's it. Sometimes the subtle emotional intricacies of their music were lost in a muddy sound-mix but that just sounds churlish. If they came on and played using only a selection of kitchen appliances and utensils as instruments, it would probably still be a revelatory experience. This IS American Music Club after all.

Feel free to discuss this review on our Indie Music Discussion board.