Alternative Miss Ireland VII 2001
Review of their gig in the Olympia Theatre, Dublin, 11th March 2001
There is no easy way to describe an event like Alternative Miss Ireland (AMI). Even in these professedly liberal days, when the gay agenda is more openly addressed, the whole shebang still carries an air of hedonism. The annual beauty (ahem!) pageant may have lost some of its underground edge since the early days, when it was held in much smaller venues to capacity crowds. But at its core it is still pretty outrageous and the move to a bigger stage means more money and promotion for the cause. (Alternative Miss Ireland has been a fundraising event for various AIDS-related charities since its inception in 1994).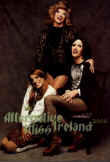 So, to the business in hand (yes, I'm afraid it will be impossible to pen this review without at least a few double entendres.) Our divine MC, Panti, takes the stage with characteristically elegant aplomb - better legs than Betty Grable and flicks that Farrah Fawcett would kill for. We could probably write a review of Panti's costumes alone, but suffice to say that a delightful diagonally striped two-piece and a shocking-pink lace baby-doll were variously worn.
Sticking with the formula, it's first to the Daywear section. Contestant number one, Miss Tina Leggs Tantrum, makes an explosive entrance to the tune of Dolly's 'Nine-to-Five'. This time it's the arms that are false - attached to a silk blouse - while real fists are waggled about inside to emulate the singer's dancing Partons. It's a hilarious kick-off to the evening and the whole floor is hooting. The Daywear section proceeds with the remaining ten contestants and at this stage we are already beginning to sort the wheat from the chafe... ooh sorry, I meant chaff! Best of eleven in this round include our high-octane Leggs opener; the hulking Miss Revvlon in black rubber and platforms (like she needs 'em) - think Hermann Munster in drag; and the spry Miss Adel Asian Angel from the Philippines, whose warbling audience address is almost Oscar-Gwynning (something about working as a nurse in Dublin, hmm!).
Proceeding to the Swimwear section of the contest but not before the first guest slot of the night - AMI 1997 Shirley Temple Bar, giving us a poptastic performance with plenty of knicker-elastic showing high-kicks. As usual Panti is in ripping form, like Mrs Robinson in a good mood, popping jibes at local celebrity nemesis, Twink (er, Panto?)! Once again Miss Tantrum steals the opening scene with a dashing Titanic-themed outfit complete with prosthetic boat - and no, that is not a euphemism! Other contenders in this round include Revvlon again (this time in Scuba-rubber complete with oxygen tank) and Miss Johnny Silvino in Hawaiian shirt and safari shorts with a bevy of bikini-clad babes to the tune of Wham's 'Club Tropicana' - something for everyone there!
The final section of the contest is the hotly contended Eveningwear round with everyone pulling out the stops. The aforementioned distinguish themselves here, but Miss Rentecca (from California, apparently) displays hitherto unwielded form with a convoluted Madge medley. So the winning three (well, actually four) are clearly marked at this stage but an honourable mention must go to Miss Adel for her extraordinary entrance in full flesh-coloured bodystocking with discretionary figleaves, accompanied by stick-wielding Filipino sidekicks. The routine proceeds with a sort of earnestly awkward pole-prancing that suggests the Asian Angel might have coconuts for feet.
At the end of this enervating round MC Panti climbs decorously into the box to announce the interim entertainment -provided by AMI 2000, Siobhan Broadway - leaving the judges (including playwright and comedian Brendan O'Carroll, Irish Times columnist Maebh Ruane and actress/ singer Maria Doyle-Kennedy) to make their decisions.
And then it's time to present the prestigious Silver Shilelagh (2nd runner-up), Golden Briquette (1st runner-up) and, obviously, the AMI crown - to be handed over by former Queen (but not necessarily former queen) Miss Broadway. No great surprises in the end but for the unusual situation of a tie for 2nd between Miss Silvino and Miss Rentecca. 1st runner-up goes to Miss Revvlon and - deservedly we feel - Miss Tina LeggsTantrum is crowned Alternative Miss Ireland 2001. Tantrums then and plenty of tiaras (in the audience mostly) but thankfully no tears.
Honestly, folks it's a bawl! So, if you think this sort of thing is not for you, we suggest that next year you go shopping for an open mind and then book your tickets early for this hyper-fun event. It's camp, comic, creative and best of all it's for a very good cause.
Carol Keogh