AC/DC
A review of their concert in Oberhausen, Germany, June 13 2003
AC/DC, we salute you. Yes, you may not have produced anything new since your first album decades ago but we don't know you as any kind of U2. You know your strengths so well and You Shook Us All Evening Long.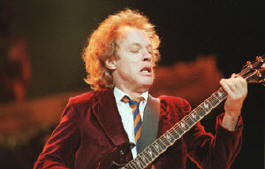 It was a smart move, the Rolling Stones bringing in the Cranberries and AC/DC to support them on their over-priced European shows. All dates are now sold out and there's plenty at the gates tonight holding placards that beg a ticket going spare. Interestingly though a good percentage of the shirts and leathers pay homage not to the Stones but to the just-slightly younger rockers on the bill, AC/DC.

Twenty five past seven, a blazingly hot summer evening and it gets a lot hotter when a mature schoolboy cuts the opening riff on 'Highway to Hell'. If anyone writes a better riff than the Young brothers, come tell me about it. Put those thrilling riffs down with Brian Johnson's mean, sleazy vocals and 'If You Want Rock, You Got It'. Tonight we got hits, loads of them. 'Back In Black' is the most utilised album on the night, with its title track coming keen and mean in the first part of the show to make way for a drawn-out 'You Shook Me All Night Long' and less studied takes of 'Whole Lotta Rosie' and 'Dirty Deeds' in the second part of the show.

AC/DC's mammoth power-chord roar, one of the most influential hard rock sounds of the '70s, was almost a punk reaction against the art rocking Pink Floyds and body wave-ing Whitesnakes of their early '70s heyday. AC/DC's rock is minimalist - no matter how huge and bludgeoning the guitar chords, there's a clear sense of space and restraint - and consequently a harder edge to the playing. This is where the band's legions of professional admirers - many of them too precious to acknowledge the debt - have been unable to follow. To paraphrase Van Morrison's bitter words, if AC/DC was a gunslinger, there'd be a lot of dead copycats in town.

The band has a great bag of hits from which to play out of - and few weak tunes in its entire canon - but AC/DC relies on the charisma and playing of Angus Young for its fuel. Mouth open, shaking, bopping and clowing, the man takes a steel grip on the audience's attention. The 1973-Sydney-formed outfit put together by older brother Malcolm would be a much more ordinary act without Angus Young's energy, tearing about the stage wearing his trademark black Gibson and the cheeky school uniform he's worn since he joined the band at 15 years old.

The double entendres sound cruder than ever but Brian Johnson by contrast to his stage-mate looks like a man out of steam. Vocal quality is still high but he's heaving and dragging himself about the stage like an old bull. That's hard to watch next to Angus's kicking, prancing, running and wild gesticulating. Johnson gives in eventually and just stands as the audience does to gape at Young's awesome mix of showmanship and guitar talent. Angus wrung everything out of the encore, 'For Those About to Rock? We Salute You' as two very real looking canon on either side of the stage blasted out a dozen booming shots. There was no need to stress the point.
AC/DC, you stole the show.