Future Kings of Spain
Spirit Store, Dundalk, 18th December 2004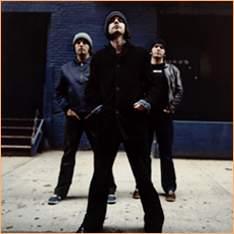 Review Snapshot:
One of the best Irish acts around, FKOS marry refined classic indie rock and handsome melodies, proving themselves to be something special. The SpiritStore, known for its reputation of good music always lets an artist shine with quality sound and a wonderful layout. One to add to your must see list of venues.
The CLUAS Verdict? 9 out of 10

Full review:
The night Started of with local band Wendimiller, this four piece are one of the heaviest bands in the area and have a strong following within the Dundalk community. Apart from some lyrics that wouldn't be to my taste, I enjoyed the band a lot, with guitar styles similar to the Deftones, Pantera and Metallica. Alan Anderson fronted the band with enormous amounts of energy and kept the crowd interested. Check them out if you're liking is ripping guitar solos and an all round heavy workout.

Next on the list was the Future kings of Spain - the last time I saw them was in Belfast where they supported the Strokes. Normally a three piece, when they tour they have an extra guitarist. So at the time of ten forty five the four piece stepped onto the stage and blasted into their first song without saying a word. I do love it when a bands just start straight into the set, no nonsense or messing about. I was very surprised with Joey Wilson voice as he screamed his way through 'Your Starlight', how could such a small body produce such a massive sound? He stood there motionless with his knees fixed together, only when he broke away from the microphone would he jolt into motion. As they paced though the set there was very little talking between songs, he seemed distant from the crowd in theses moments but came alive when he played.

As the night came to an end they had played a lot of favourites, including 'A Place for Everything', 'Venetian Blinds', 'Hanging Around' and 'Simple Fact'. They also played songs from a new EP. One song called 1997(I think) impressed me the most. FKOS mix taut rock and roll with catchy pop but they decide to end the night with the angry, 'Face I Know'. Keep an eye out for this band as I think they are very promising and whatever good fortune is required to become famous in the country, lets hope it happens to them. Ireland needs some fresh talent to be mascots of rock.
Dane McMahon



Feel free to discuss this review on our Indie Music Discussion board.