This article was first published on CLUAS in Nov 2003
An Interview with Waiting Room
No room to wait as Cork's latest quality act ramp things up...
Wayne Dunlae had the good luck to show up two years ago at a gig the night the drummer from Dave Aherne and Nigel Farrelly's previous band didn't turn up. Since then, the three have traded under the possibly Fugazi-influenced name of Waiting Room. However, as they tell me, this earlier incarnation of Waiting Room differs greatly from that of today. "It was more singer-songwriter stuff than a band, more indie really", explains Nigel. All the songs from their first album were written by Nigel (vocals & guitar), with, as Dave (bass) puts it, "myself and Wayne just following him into studio".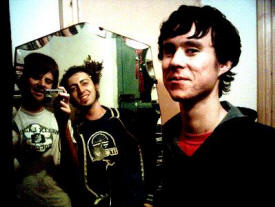 The album in question, "Losing Patience", turned out to be a learning curve for all involved. "We went into studio and we didn't really know what we were doing", admits Dave, "but we know we just wanted to go in and make some songs, and just learn from it". Wayne adds, "I had a piece of paper next to me telling me how many bars were in each verse, sort of making things up on the spot, so it was a bit strange in that sense."

In the two years since their last release, the band have become a very tight unit, who seem very comfortable playing together. Their new album "Catering for Headphones" is already recorded and is being readied for release in February 2004. For my money, there won't be many, if any, Irish releases next year that are going to better it. Originally consisting of eleven tracks, the band decided to get rid of the instrumental title track, which swiftly switches from quiet to loud midway through the song like some of the band's other tunes, notably the wonderful "Message Received". Wayne feels that the track "Catering?", which was supposed to come at the album's half way point, "broke up the album's momentum. However, we may use it for something in the future".

While the album won't be released for a while yet, the band have had it completely finished since the start of the summer. "Our friend Ross O' Donovan recorded it on his computer, basically in my house", Nigel explains, "He had pro-tools in his laptop, and it took us three or four weeks to make it. We were kind of advised to leave the release until February". Explaining the decision a bit more Dave adds, "because within a month it would have been last year's album, and we wouldn't get much press, with Christmas and all that manufactured stuff fighting for number 1".
While waiting on releasing recorded material for a long time can often be the source of much frustration for many bands, Dave's summer sojourn in the States has resulted in as Wayne says, "the songs sounding fresher again".

Listening to tracks like "Angel" where Nigel sings softly "I miss your smile / I miss your face", there seems to be definite elements of melancholy in his lyrics. Surprisingly he agrees with me. "I suppose when you are writing songs or lyrics you start thinking about things a bit more, and I tend to think about the bad things a bit more? I am not as depressed as it sounds though!" Although it is not always the case that the lyrics are tinged with melancholy as David says, "I think that the way Nigel's voice is, people automatically think that he is upset. There are one or two tracks on the album that if you listen to the lyrics, they are really happy. But people who have heard it think that it is too depressing to put on the radio". Nigel agrees too, "Even the one on the Foggy Notions CD, everyone thought it was depressing. But the chorus isn't depressing, it is kind of optimistic".
One thing for sure is that Nigel certainly has a distinctive voice, sometimes sounding as if it is tinged with sadness. However, it isn't a depressive brogue, but something that is far more tender. Or as Dave jokes "He is doing it for the pity from the ladies!" ("Well it's not working!" retorts Nigel).

Speaking of ladies, a chanteuse who appears on some of the album's tracks who Nigel confirms to be Lisa who "sang on some of the earlier stuff, but she has gone off doing her own thing now. There is another girl, Aisling who plays in a number of Cork bands, and she played cello on it. We are kind of always adding guitarists and taking people away. Johnny the drummer from Rest played guitar with us a few times, but we have never had a settled fourth member". Dave adds "Because we overdub stuff on the album, you don't want it to sound empty live, you want to produce the same thing live".

At the time of the interview Waiting Room were looking forward to supporting the fantastic Nad Navillus at his gig in Limerick. "We saw him when he played the Lobby, and there was literally four people there. But the gig was unreal? he is an amazing guitarist", says Nigel.
This turns the conversation to talking about Limerick in general, and Waiting Room seem to be more than complimentary. "We like it a lot more than (hesitates)?maybe? Cork", confesses Dave. Wayne adds, "People will automatically be more interested in listening to you because you are not from Limerick". Nigel doesn't disagree noting that "People really seem to listen to the bands up here in Limerick". For Dave it is because Limerick has "a really good music scene with the AMC and everything. You do get people who go to gigs for gigs and not just to get pissed, and act the dick with their friends".
On the other hand in their native Cork "there is no solid collective" according to Dave. "I think every band in Cork seems to be linked in some way, but they don't seem to be playing gigs together. It seems to be the same music in the same venues, people don't seem to be expanding their audiences by adding other bands to the line up and so on. Its kind of weird, it's kind of snobbery in a way".

When an adjoining building next door to their practice space caught fire in September 2003, the band lost an estimated 10,000 euro worth of music equipment. While such a tragedy would have left a lot of bands in tatters, Waiting Room are somewhat philosophical about it all. "The way I was saying about the snobbery in Cork between bands, this did bring a lot of bands together, and there is a lot of people playing benefits", says Dave, "which is really cool because these line-ups mightn't have happened otherwise". It's not just bands from Cork who are rallying around them either, with the Dudley Corporation offering to donate the takings from their recent Cork gig to the band. "We would prefer if they didn't because they were launching their own album", says Wayne when you consider, as Dave noted, "they recorded the album off their own backs, and we know how expensive that can be". As Nigel confirmed "It was a really, really generous offer. Also, Music Maker in Dublin said they would sell us the equipment at cost price." The timing of the fire however was really bad, as Waiting Room are to go on tour soon.

The tour in question will see the band playing their own headline show in London, and dates in Cork, Dublin and Limerick with Nad. The London show is especially important for the band as the promotion company involved may be interested in setting up a full UK Tour for the band in the New Year. That, coupled with the release of "Catering For Headphones", means that 2004 is going to be a very big year for the band.

Waiting Room were interviewed by Ciaran Ryan