Real Live Music - Midland's Style
Niamh on Mullingar's daring venue 'The Stables'
The Stables in Mullingar in a new live music venue in Mullingar, Co.Westmeath. In a town already armed with over fifty pubs and numerous cheesy clubs, the Stables has plenty of competition. Its focus however, is very different to all the other pubs and clubs in the town, in that the emphasis is not on the boozing or the dancing, but on the music. The Stables' aim is to educate the Mullingar public and to help Irish music by adding a venue to the music-track.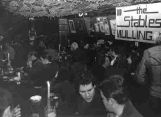 The past few months has seen many of Ireland's best young bands perform at the Stables, including Brando, Innate and the Nude. As well as giving bands an opportunity to showcase their talents outside Dublin, many of the gigs also give Mullingar bands the chance to play support, thus encouraging the local music scene. The venue itself is indeed some renovated horse stables and is decorated in a cowboy saloon style, complete with wooden benches, concrete floors, candles and murals. All that's missing is the sawdust and spittoons. The overall atmosphere is intimate and friendly, and the venue feels like another world compared to other pubs in the town. If you're after a rowdy night out with some Venga Boys in the background, stay away. In the Stables the emphasis is on quality music and the punters are there to listen.

As all gig-going Dubliners will know, we desperately need a venue like this in the capital. With only one or two possible exceptions, Dublin's venues are in it for the money, and not the music. There is nowhere left that is dedicated to showcasing new talent. I fear that we may have to wait a long time for a venue like this in Dublin. Until then, The Stables is the nearest alternative. Situated an hour or so from Dublin, Mullingar is not exactly out of the way. The venue is ideal for bands who wish to play to a listening audience, and also for fans who want to hear music in intimate surroundings. Upcoming gigs include The Frames, Paddy Casey and Watercress. The Stables should be on the must see list of any real music lover, artist or fan.
Niamh Grimes