This article was first published
on CLUAS in May 2006
Self Aid: 20 Years On
Mick looks back at Self Aid on its 20th anniversary...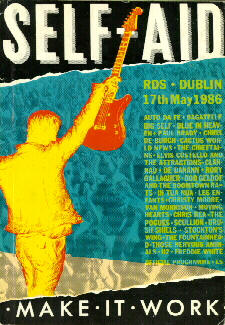 Young and old alike either remember or heard of Band-Aid and Live Aid, but how many of you remember Self-Aid? Twenty years ago this month an Irish version of Live Aid, albeit with a different set of goals, took place in Dublin's RDS Show jumping arena.
Ireland today is a complete contrast of the picture it was in 1986. For those who can't remember that summer, Maradona was beating England "single handed", The Chicken Song was Ireland's No. 1 selling single, almost nobody had a job and I was preparing for my Leaving Cert.
It was a very worrying time for everyone, not just students. Almost 250,000 people were unemployed in a Country of 3.5 million and the future looked very bleak. Friends of mine had already emigrated, some to America, but the majority had taken the shorter and less expensive boat trip to Britain. That thought had crossed my mind also but I had a part-time job and was optimistic that a good Leaving Cert would secure me permanent full-time employment, so I stayed put.
The 'Self Aid - Make It Work' concert was organised to highlight the problem of unemployment, invite donations and job pledges. Like most events it had its critics. Several journalists (notably John Waters writing at the time in In Dublin) criticised the event proclaiming it was well intended but ill-conceived, and that it didn't address the root causes of unemployment. But in the end all that noise didn't stop the event from going ahead.
On 17 May 1986 however I had a deadline to meet. My Building Construction School Project was behind schedule so that Saturday was earmarked as a day to catch up and I couldn't make it to Ireland's largest one-day concert extravaganza which was taking place over 50 miles away in Dublin's R.D.S. Arena. Over 30 Irish - and some international - acts donated their time and services for free. As for those like myself unable to attend, we contributed by being part of what was at that Ireland's largest ever television audience for a domestic event.
Brush Shiels opened proceedings, dedicating 'Whiskey in the Jar' to the late Philip Lynott (who had died just 4 months previously). The concert featured a who's who of the Irish Music Industry at that time. Household names of the time like Chris De Burgh, Cactus World News, In Tua Nua, and The Fountainhead were joined by acts that are still as big today (if not bigger) as they were then, including Paul Brady, Elvis Costello, Christy Moore, Van Morrison and U2. The Boomtown Rats also turned up to deliver their final live performance ever. It will come as no surprise to hear that it fell to U2 to provide a (fitting and spirited) finale for the day. At that time they were in the process of writing The Joshua Tree and they put in a gritty and occasionally risky performance. They sandwiched crowd pleasing 'Sunday Bloody Sunday' and 'Pride' with cover versions of Eddie Corcoran's "C'mon Everybody" and Lennon's 'Maggie's Farm', before being dragged back for an encore of 'Bad'.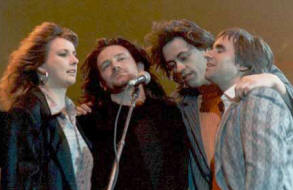 The theme song for the event 'Make It Work' had been co-written by Christy Moore and unsigned songwriter Paul Doran. Although it may not have been Ireland's best selling single that week, it was 'granted' a special no. 1 placing in the Irish Charts (or so I recall I Larry Gogan saying throughout the week on his show). The following year several performances from the gig were released on a now-difficult-to-find double album called 'Live For Ireland' (which included U2's blistering cover of 'Maggie's Farm').
Twenty years on, thanks to an economic boom nobody was predicting twenty years ago we live in a society where there is no longer any need to highlight unemployment in a such a dramatic way. The complete opposite is in fact the case with our new dependency on immigrants from other countries to take on jobs many locals would not even consider.
So could it be time for Ireland to get another big televised, awareness-raising, outdoor gig extravaganza - Self-Aid focused on the big question of its day - unemployment. But what's the big question today in Irish society? House prices of course. How about it then - anybody for "House Aid"? Ireland's finest musical talents getting up on stage to raise awareness and money for those struggling to become first time buyers in 21st century Ireland. Well, I suppose, it would one very convoluted way to get A House to reform...
Mick Lynch

Check out the Self Aid 20th Anniversary thread on the CLUAS discussion board.