This article was first published on CLUAS in March 2010
'The Death Of Bunny Munro'
A review of Nick Cave's second novel, published by CanonGate...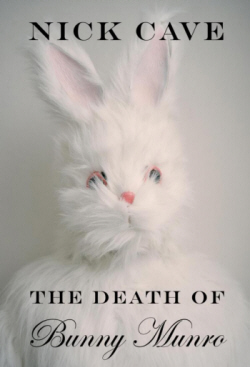 As if a novel by the enigmatic musician Nick Cave wasn't enough to draw us in, the book opens with a great line, intriguing us enough to go on. "'I am damned' thinks Bunny Munro in a sudden moment of self- awareness reserved for those who are soon to die."

The book is set in the geographical location of Brighton, England, but it would be better to say that it is set on the roads of Brighton, in the seedy hotel rooms of Brighton, and the homes and flats of Brighton. And ever present is Munro's little yellow Punto.

Our main character Bunny Munro is in an almost permanent state of drunkness, he is handsome ("...He can see immediately why the ladies dig him, He's not a toned, square-jawed lover boy, or cummerbunded ladies' man but there's a pull, even in his booze-blasted face, a magnetic drag that has something to do with the pockets of compassion that form in the corners of his eyes..."). A beauty products salesman, he peddles his goods and his sex appeal, feeding his appetites for sex, drugs and alcohol all the time.

The secondary character is the innocent Bunny Munro Junior, the nine year old son. He doesn't see the sex addict or the alcoholic that the reader knows, he sees 'Dad'. It is easy to see the similarities between himself and his father-both run from facing their grief. Bunny Junior escapes into his encyclopedia, given to him as a gift from his mother who committed suicide; Bunny uses sex and alcohol. Both are visited by the ghosts of Libby Munro. Bunny pretends she isn't there, Bunny Junior runs to her, seeking the comfort of his mother.

The third member in the Munro line makes numerous appearances also; Bunny Munro Senior, an elderly man suffering in a nursing home from cancer. He is just like his son, something Bunny chooses to run from until he is forced to face it.

The book and the music of Nick Cave share many themes - death, love, lust and pain. Thanks, it could be said, to his career in music, the book is written with a technical eye and experience, something many writers on their second novel would not have. In terms of language, character development and tone, I would come close to calling it perfect. Without doing anything spectacular, Cave manages to have you thinking about this book when you aren't lucky enough to be reading it.
Nick Cave may have ahead of him as successful a career in fiction as he has had in music.
Elaine Peppard
To buy a new or (very reasonably priced) 2nd hand copy of this book on Amazon just click

here.