This article was first published on CLUAS in October 2000
Mundy
Ronan catches up a contented, contract free Mundy...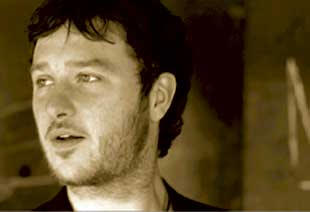 This week, Irish singer/songwriter Mundy returns to the record buying public's purses with the finest 15 minutes of music you're likely to hear this year. The 'Moon Is A Bullet Hole' is the first official Mundy release since his appearance on the 11 million selling 'Romeo And Juliet' soundtrack. The Birr born man has been busy since then of course, but the fruits of his labour are unlikely ever to see the light of day. For this year Mundy was dropped from the Epic / Sony roster. "Being dropped was a relief" a chirpy Mundy told me when I caught up with him recently.
'The Moon Is A Bullet Hole' takes its title from a spoken word song that Mundy (real name Edmond Enright) had written for a follow-up album to 1996's 'Jellylegs'. The album has never seen the light of day though. Sony, it seems, weren't too impressed with the results. "They didn't know what to do with it" a relaxed Mundy tells CLUAS from his Dublin home, "that Britpop thing was big at the time but it was not for us. I think they wanted me to be pop really. The Romeo and Juliet thing (Mundy's Youth-produced To You I Bestow) took everyone by surprise. We made a video, kinda like the Cardigans one with clips from the film, but the label didn't know what to do with it. Maybe it looked too flash! We'd toured by then and I suppose timing was a factor, I dunno?"
Mundy's inclusion on the multi-million selling 'Romeo and Juliet' came about as a nice surprise. "Yeah, Nellie Hooper rang up. He liked the track, there was a romantic feel to it that he liked and there was a US tip in the production." To You I Bestow" was produced by Youth, the legendary ex-Killing Joke bass man and DJ oddity, the main man of Dragonfly records and producer of some note. "He was a nutter. A cool, far out, individual. The sound was big alright!" remembers Mundy. After the success of the tracks inclusion Sony wanted more. Mundy started working with producer Tommy D (Catatonia, Finley Quayle) and a 12-track album was in the can. The album was to be the nail in the coffin for Mundy and Sony. "They just didn't like it. It went a bit stale for a while and then early this year I was told I was dropped." He says almost misty eyed. "It was a pain in the ass really, I wasn't too happy about it. The album was such a laugh to make, but no one heard it which takes the fun out of it really." So would he sign for a major label again? "Only on my own terms" he adds quickly "I might let someone license my stuff. I won't want to sound like the traditional 'I've been dropped, my record company doesn't understand me' person, these things happen and people say stupid things, but everything's rosy now, I couldn't care less. It was tedious then but the pressures off now."
The pressure's off indeed. 'The Moon Is A bullet Hole' in some ways deals with the dropping incident. The standout track, the one that's gracing the nation's airwaves at present, 'Mayday', could well have been written about the whole Deal / No Deal thing. It's a stunning opening to the EP, and even Mundy himself concedes that it "could" have been written about his scale to the dizzying heights of success and his subsequent 'fall'. Maybe the rejection of his second LP could account for the lines "I'm losing fuel real fast and I need some backing up?let me down." The relentless tours (over the years Mundy has supported acts as diverse as Neil Young, Alanis Morrisette, David Gray, Cast, Manic Street Preachers, Van the Man and Mansun to name but a few) could account for "I can't remember why I came / and there's fever in my cabin Lord / and I'm hanging from the mane."
"Yeah, there's some truth there all right" Mundy says, "with 'Jellylegs' it got to the stage where you're, you know, just looking at the signposts to see where you are. Looking back it was good but there were stages when the same set 14 nights in a row can be tiresome. With the record company thing, you get a feeling that you're up too long, you want to get down and then I got let down fairly handy." Whatever, 'Mayday' is a stunning song. To quote The Frames, it's the "perfect opening line", the perfect re-introduction to the public. Sweeping strings, a paranoid feel and a lyrical grace beyond his 25 years catapult the song into the bracket of "instant classic."
'Mayday' it transpires was one of the first songs that Mundy recorded after being dropped. He took time out ("a few gigs here and there") and eventually he got a call from Andrew Phillpot, a member of the live incarnation of Depeche Mode. "I'd no LP, no deal, but this call to carry on came through and we did the EP." More so out of pride than anything else ("Fans were always asking me when am I going to do something, they wanted to hear anything"), the EP was recorded swift(ish)ly and the results are tremendous, well worth the four year wait. 'Healthy' is a lush string augmented track, pastoral in its feel and reminiscent of the late great Nick Drake. It is, as he says himself "a tremor of the heart" of a song. A healthy encounter that's not that healthy turns out to be 'amazing' in the song. The production is sweeping on it. "With the strings, I could hear them in the guitar from the early demos, they suited it to perfection but it still sounds orchestral acoustically."
Working with Phillpot has given Mundy a new lease of creative brilliance. One listen to 'The Moon Is A Bullet Hole' confirms this. Closing track The Last Time could be the motto on which Mundy 2000 could make it again. "It's about stop taking your time, there's no time to lounge about and complain, you got to just go out and do it." That's what Mundy will be doing from now to Christmas. A full Irish tour is planned for October and November. He may also be playing another hometown gig in Birr. This summer he played at the vintage festival there. Was he nervous about playing the hometown? "As nervous as I'll ever be" he laughs. "I play there regularly in the folks place, but not on the scale of this summer. It was nerve wracking, you know yourself, there'd be people there wondering 'how's he turned out?' and stuff, but after the first song it was grand. I'd got used to crowds again." The help of David Gray was probably to thank here. Gray brought Mundy on tour with him for his breakthrough UK tour in April. "I'd been slow getting on the road and David offered me a slot, it was cool." What does he think of Gray's almost fairytale success? "It shows what Chinese whispers can do, people just heard about him and without the aid of major label money he did it." Gray, if you remember, was dropped by EMI not too long before 'White Ladder'. Will history repeat itself with Mundy? After the David Gray tour Mundy headed off the US with former label mate and good friend Paddy Casey. "We shared headlining duties, and quite a few beers! It was a cool tour, it was great to hang out with Paddy and play, great stuff" remembers the Birr man.
In the meantime, 'The Moon Is A Bullet Hole 'is out now on Mundy's own label Camcor Records that will hopefully expand. "If we make a few pound with it hopefully we can put it back into the label and help some other acts" says a contented, happy Mundy. We finish by talking about the current state of Irish rock. "It's fairly smoking. You either want to play music or you don't and thankfully there's a lot of people doing just that" He mentions Witnness as a gauge as to how good Irish music has become. With over two thirds of the acts on the bill being Irish it felt like a vindication for the country's music scene, not only in rock, but in dance and pop. Among the many acts that tickle Mundy's musical tastebuds David Kitt is mentioned. "It'll be interesting to hear what he does after 'Small Moments'. It's a great album and he's got the vibe upstairs. He'll do well." Does Mundy have any advice for anyone else out there? "You can't buy the knowledge. I wouldn't go through the Sony situation again, so watch yourselves. If you want to do it, just do it," he concludes.
With 'The Moon Is A Bullet Hole', the long overdue return to action from Mundy is as refreshing and timely as you can get. An album is promised, in the meantime some of those second album songs may see the light of day as a few more EPs, an album is also promised. If it's as good as 'The Moon Is A Bullet Hole' then Sony, like EMI today with David Gray, may well be regretting ever letting go of this natural born talent.
Ronan Casey