This article was first published on CLUAS in May 2002
Underground music, Madrid Metro style...
"If that train runs me right, I'll be home tomorrow night,
'Cause it's nine hundred miles where I'm goin',
And I hate to hear that lonesome whistle blow,
'Cause I'm nine hundred miles from my home."
(Jazz tune heard on line 2, Madrid metro, January 2002)
The spontaneous bursts of music brighten cold suburban passageways. Various ethnicities telling so many stories. Every day as I take the metro from Arguelles to Goya, from Moncloa to Mar de Cristal, the music gets on and off on the way. Each station provides its own peculiar accompaniment, all the genres: Latin soul, Latin pop, rhythm and blues, jazz, acoustic rock, even a Chinese classical orchestra. There's songs by the Stones, by Van Morrison, by Manu Chao, by Eric Clapton, by a dozen Ecuadorian classicists. It reminds me of what a musically interdependent world we live in. If they're selling a cd, I buy it. That's a perfect way of bringing a little of the city home with you, the real city, the sounds beneath the city.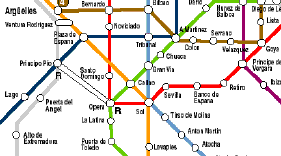 Victor has been taking his music down the subways of various cities for about 15 years, full time for the past two or three. The Australian quit his English teaching job to hit the highway full time, "...guitar slung across his back, dusty boots his Cadillac..." and all those other Hendrix notions. He's helped along by some fairly regular slots at music bars and the odd opening function pay card.

So, he's a good subway performer, right? "It takes a lot of courage to open up and try and entertain somebody in that situation... When I'm performing, not only am I performing for the people out there, I'm performing for myself also. For me it's an outlet as well as a job." Yes, but why the crowded confines of a metro carriage, and the cold comforts of a station's corridors? "If I was in a club, would you have heard me? No, so you understand why I'd come here."

Steven Branigan is from Surrey, England. He started playing acoustic folk songs in the London underground ten years ago, but on a visit to the west of Ireland two years ago he learned how to play the uileann pipes, the Irish variation of the bag pipes. "It was something very different. I was on an island near Galway and two guys in a pub there taught me how to play. They taught me the banjo too. It was a great career move for someone making a living on the tube. It's always harder to get attention in the underground as a guitarist as there's so many more of them. What you've got to do is kind of like niche-marketing. You've got to have something a little different, I think, to do well."

Since moving to Madrid a year ago Branigan has been able to make his living playing music on the metro and selling one of the two CDs he's recorded. Metro performances have landed him other gigs. He's been hired to play at several weddings, a family reunion party and a few municipal shows. A Galician restaurant in town has hired him to play for guests at weekends. They reckon his bag pipes are Celtic enough to pass for the real Galician thing.

The Madrid subway music scene "reminds me of Hyde Park in London and the soap box tradition there." says Branigan. "As well as providing a livelihood it's a place where musicians take new ideas to the people and hopefully make think. It's an interactive thing but a hard thing to do. I try to get the pulse of the crowd and play something they'll relate to and think about."

There's been a long tradition of the buskers come good in the music business. Bob Dylan did it in Boston and New York. Irving Berlin was an itinerant musician in New York before he made his million dollar music. Louis Armstrong meanwhile honed his great talent on the streets of New Orleans. Tracy Chapman played the subways and streets of Boston while studying at Tufts University in the town. Good subway musicians can coax enough coins into the can to get by and their metro playing enables them to improve their music while growing their audience.

The streets and subways are places where musicians "are allowed to take their own vision" says guitarist Robert Canut. Street music to Canut is a proving ground, a public studio where musicians can experiment in front of "tough audiences."

"Street music is that it helps people get opportunities," says Canut. "If musicians can sell their cassettes and CDs while playing the street and the metro then this is also helpful in building a career and an audience."

The 31-year-old from Bilbao was hardly to the manor born. "I was screaming to get over the noise of the train when I started, there was only two songs I knew fairly well and my voice was very weak and rough" he says. Chucking in his sound engineering course at Madrid's Complutense university, Canut mastered the alternative chords and agit-rock songs he loved and went down the metro. The pesetas were few at the start but as his tunes improved, so did his take. Even better, he started to land some gigs in bars and clubs around Madrid, "...all types of tiny, big, dirty, posh places." The demanding environs of underground train stations helped him develop his audience and style says Canut. His musical instincts go deep and the Basque was happy to have the imperfect venue. "I must play. I go crazy if I don't play," he says. "There's thousands to play to in the metro. It's therapy so even if it can be a difficult environment it's a great opportunity."

"Exposure is my primary motivation for playing in the subway," says singer-songwriter Paloma, "but it also tests my limitations and improves my focus." In the Barcelona and London subways, says the former art student, "my development and performance have improved, and I can take the experience onto the stage where it's a friendlier environment." Adds the affable 24-year-old, "I'm enjoying the small notoriety I'm getting."

"I get into a zone, and during the silence between the trains, I see if I can pull the audience in," she says. "It's a big lesson in acceptance. I've learned a lot about patience, tolerance, my own limits. You're dealing with an environment you can't control. You can't tell the trains to stop coming as often or to slow down or hurry up." And as if to answer the disapproval of her parents, who've not exactly been grooving to her career path she adds "It's really shaping me. The more I put into it, the more I get out of it... and I'm proud to be doing it."

Click for part 2 of this article >>