This article was first published on CLUAS in August 2005
Interview with Joe Whyte
Gareth catches up with the NYC area singer...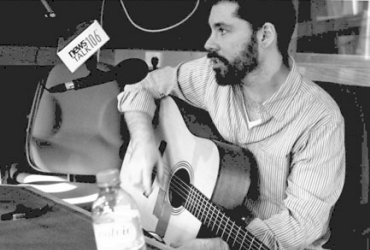 With two shows in Ireland lined up, New Jersey native Joe Whyte is hoping to attract a few Irish fans and get his latest album 'The Lower 48' out there. Gareth Maher caught up with him for a brief chat.
---
What urged you to pick up a guitar and write your own stuff? Was there any particular moment or song that inspired you?
I wish I had some great dramatic story that I woke up one day and was struck with a need to write songs. I could make one up if you like.
I suppose I was always into music. I played trumpet as a kid and always wanted to play drums and was constantly tapping my pencils in school. I never consciously decided to write my own songs though. I didn't know how to even tune a guitar for years, let alone play it. But I wrote in the strangest un-tuned way with made-up chords, and having a few old Dylan and Beatles records in the house growing up didn't hurt either.

Cited by a lot of critics, and very noticeable on listening to your album, are your vocal capabilities. Have you turned your attention toward using your vocals in a more wholesome way and has your singing style changed over the years?
Definitely. I think before I was coming at things (vocally) from a more rock perspective, which was a bit more over the top. Whereas now I try to just make my voice serve the song. Plus, I think I've learned how to actually 'sing' and control my voice.

Are you confident in your musicianship skills?
I'm confident in my song writing, singing, production and arranging but as a guitar player I wouldn't really consider myself the most skillful. I don't really know many cover songs because I never wanted to learn other people's songs, just to write my own. I guess that's my only regret - never taking guitar lessons. I always say I'm going to but never get around to it.

Are you happy to be branded another singer/songwriter? Or do you feel you have something that little bit different?
I'm happy to be branded a singer/songwriter in the vein of Dylan, Springsteen, Lennon and people like that, but not necessarily in what lately seems to equate 'singer/songwriter' with mopey, boring and folky. I definitely think I am doing something a little bit different in that I can do the solo acoustic show, then also do a full band rock show. I think the band element makes it a little different than the coffeehouse vibe that most people get when they think of singer/songwriters.

You must be drenched in influence for writing songs when living in a place like New York?
Yeah, New York can be very inspiring but also a daunting place sometimes too. There is an amazing wealth of talent and things to write about, or to be inspired by. New Jersey is technically home (just across the river) but my day job is in NYC, so I'm there more often than not. Sometimes it's easier to say 'NYC Area Artist', but I'm a proud New Jersey native.

What was the name of the band you fronted and what happened with them?
We were called 'Mad Frank' and were a late 90s grungy-rock outfit playing half covers and half originals. We played in places like the Rock Garden, which was what Eammon Doran's was back then. But unfortunately, my work permit ran out and I had to return to the States.

You must be fairly familiar with the Irish music scene, having lived & worked over here as well as playing support slots to other artists. What is your opinion on the music scene here?
I think the quality of the artists coming out of Ireland is staggering. Even the people who aren't doing music as a serious venture have some amazing talent. The scene itself, in terms of supporting original music and singer/songwriters specifically is great. You can play a gig and have people listen in silence - that can be pretty rare in NY.

Though I'm not immersed in the Irish scene on a daily basis, it seems like the press may tend to unfairly lump a lot of acts into the same mould, maybe because they run in the same circles. If you like at artists like Mark Geary, Damien Rice, Damien Dempsey, Mundy, Paddy Casey - sure they're all singer/songwriters but they're all really different from each other. With that said though, I also hope to see more bands coming out of Ireland. I'm looking forward to the next Bell X1 record.

It must be like a homecoming when you play in Ireland?
Yeah, it is. I'm still trying to build a fan base because I haven't been over regularly. But I have quite a lot of friends and some family in Ireland. And I always say that if I ever win the lottery or sell a million records, I'm going to buy a house in Galway straight away.

Was there a specific angle or direction you took when making 'The Lower 48'? It must be hard to finally let the songs go after nurturing them for so long from the writing process to recording period to mixing?
Well, I started recording the album in January 2004, so it's taken quite a while to get where it is now. I think letting them go is the easiest thing to do right now. I guess the direction I wanted to go in was 'less is more'. Some songs are just a vocal and a cello or guitar, while some songs have a full band on them. I just wanted to make a record that I would want to listen to.

Any label interest?
Yes, lately there are a few nibbles thanks to my lawyer so the next few months will hopefully be pretty interesting.

And you have Jeff Buckley's manager. How did that come about? Are you a fan of Buckley's work?
I am a huge Jeff Buckley fan and I had seen his former manager/attorney speak at a few music conferences and just asked if I could send him some music. After he listened to it, we met and he thought that I really had something so we've been working together for a few months now. That first meeting was pretty intimidating, and kind of sad at the same time, with pictures of Jeff & his albums around the office.

How did the Kilkenny Festival go? And any big gigs coming up?
It was a really good experience with a lot of great acts playing. Lately, we've had a bunch of industry folk coming to see me with the band, so I guess all of the gigs are big right now.

When a music fan sees your CD or a review of your stuff or hears your name, what reaction would you like them to have straight away?
That they immediately go out and buy the record. Making that happen is the hard part though - getting people to even hear about it can be difficult. I've discovered so much great music in the last year from just a review in a magazine or a thirty second clip on the internet, so I guess if someone can't but it right away then I hope they are at least intrigued enough to check out a clip or a review.

Interview conducted by Gareth Maher



Joe plays An Cruiscin Lan in Cork on August 1st and Ruby Sessions in Dublin on August 2nd.


Chekc out www.joewhyte.com for more information on Joe and his music.