This article was first published
on CLUAS in December 2008
Irish Jack and the Lambretta LI Scooter...
Introduction by Ken Fallon
Earlier this year, I interviewed Corkman 'Irish Jack' Lyons where he entertainingly recounted his younger years as a close confidante and friend of The Who. He was such a close friend of the band's guitarist Pete Townshend that Townshend based the main character in 'Quodrophenia' - Jimmy Cooper - on him. Below, in his own words, Jack recalls the day he met a young and then unknown Phil Daniels, who was auditioning for the main role of Cooper in the film. It would be this character who would make famous one of the iconic symbols of Mod culture, the Lambretta LI scooter. The scooter used in the film, which Jack also talks about in his reminiscences below, was recently sold at auction in London for £36,000.
---
Those interested in following the latest adventures of the rise and rise of Jimmy Cooper's Lambretta LI scooter might find notion in the following vignette. As you may know, the recent owner of the scooter - one Kev Percival who runs All-Styles Scooters in Portsmouth - originally rescued the bike from gathering rust in a Southsea back garden. As it says in my type-written notes on the left, he was an apprentice at school at the time and his remarkable refurbishing of the beloved bike was part of his training. Kevin originally paid £80 Sterling to take it away from a garden at the back of Canada House recently Bonhams Entertainments Auctions sold it for£36,000.

Back on 27 January 2002 I did a reading for the Right Track Scooter Club at the Horse Shoe Inn in Portsmouth (and a couple of hours later Pete completely smashed a black Fender Stratocaster - some of the splinters are still embedded in my palate). Just before taking the stage to do the reading I was summoned to the bar downstairs where a gentleman calling himself Kevin Percival and his brother introduced me to "KRU 251". They wanted me to model the famous scooter and I was honoured beyond belief to sit on it and be photographed for the local paper. The occasion was quite poignant for me because within a couple of hours I was going to be standing at the side of the same stage I had previously shared some 28 years earlier with Chris Stamp, Oliver Reed and the vivacious Ann-Margaret as we watched the 1974-wrecking Who at Portsmouth Guildhall.

But good as it is, that's not really the story : back in 1978 during a pregnant period when I was re-installed in the airless, windowless bunker Essex Music called a basement to write scenarios for the Quadrophenia official script writer David Humphries, I got a call from Bill Curbishley to accompany him and his then wife Jackie to a little 40-seater cinema in Soho to take a look at a young actor who was being considered for the part of Jimmy in Quadrophenia.
Having gone along to the studio cinema and watched this guy called Phil Daniels in a 30-minute short (called 'Hangin Around' written by English writer, Barry Keeffe) the rest, as you say, is history. (For details of some of the blunders and monkey business that happened next see the article 'A Quadrophenic Saga' on my web site).

But here's some badly needed juice to a tired story. A few days after Phil Daniels was given the part of Jimmy I was sent along to Lee International Studios at Wembley to meet up with him. We shook hands and he appeared to me to be a bit of a cocky young lad, in fact perfect for Pip in Great Expectations. We sat down with a pint. The night before, John Entwistle had had a ferocious row with his wife Alison because John mistakenly thought that Alison had been chatting some guy up - it was his one failing in that poor old lovable John always imagined someone was after his girl. I'd seen it with Max and more than once with our beloved Lisa. To her credit Alison was taking the Ox's outburst in her stride while John went through the familiar ritual of throwing ash trays and glasses against the studio wall with a lot of very-unmusical film people present. Poor old Kenney Wyatt, John's old driver from Hanwell, practically went about the business of scooping everything up behind him with a newspaper.
As I sat the next day with this young guy Phil Daniels we talked about Mods which he readily admitted he didn't know very much about. He had one problem and was almost apologetic in its utteringis in his Cockney-nasal drawl : "Jack, what I don't understand is am I going to be playing you or am I playing the bloke called Jimmy Cooper." It was, of course, for me a well earned ego massage. I could have hugged him because in all honesty, he hadn't a f------g clue. "I'm the man it's based on. Right? So you're going to be playing the character called Jimmy Cooper." By the second pint the extraordinary complications of Pete Townshend's Mod Opera seemed to be making sense. "Oh, right!!"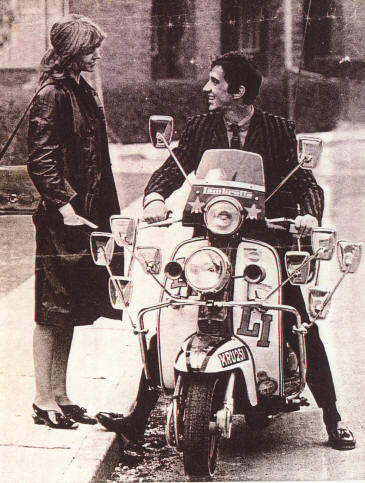 As we sat and chatted and he wanted to know if I had ever slapped any coppers or been inside, it occurred to me that his vision of what Mods were actually about was a little wide of the mark. I should, of course, have told myself that this boy was an actor and not a bloody peacocked historian like me. In any event I was many years older than him. The next pint was my call so I called it and told him I'd be back in five minutes as I had to go and see Simon Holland from the production team next door. When I looked for his office I came across the most beautiful girl sitting nervously waiting to be auditioned. I'd have given her the part just on her eyes. She was Lesley Ash and men would have killed and conquered empires for her. Back with Phil Daniels and giving him the depressing news that, no, I had never given a copper a slap, but yes, to his delight, I had spent the night in the nick for stealing a consignment of Christmas cakes on the 4th of January (very Irish!)

With the third round of drinks over it was his round next and we deliberately stayed away from such mundane subjects as the early Berlin School of Post Modernism & Film and concentrated on how did I manage to nick the Christmas cakes, how did I get caught by the police and how did I get bail? He couldn't have told you the difference between John Lee Hooker and Leadbelly but he had a natural innocence. He drained his third pint and looked quickly at his watch, saying 'F-----g hell, I gotta go." He had to go? Just when it was beginning to get interesting and I'd been storing up a couple of tasty stories which I knew he'd enjoyed about Roger's mates, the hardest men in Shepherd's Bush - Georgie Harding, Norman Foreman and Reggie Chaplin - and he had to go?

"I thought you were here for the afternoon?" I enquired, trying to hide the disappointment in my voice. "I gotta go, see. I got a f------g driving lesson !!" I looked at him and I couldn't believe it. A driving lesson (or, as he had punctuated it in his Cockney nasal 'a dwriving lessing'). Readers, and those attuned to the miseries and PC-ness of this sad old world, will realise that anyone going for a driving lesson in this day and age after three pints of beer would be well advised to stay far away from the wheel of a car, lest they end up in prison. But back then in 1978, in a mobile-less, email-less and web site-less world where we were surrounded by all that lovely hippy shit, three or four pints of beer was par for the course before a driving lesson, indeed, it steadied the nerves and made a man of you even if you happened to be a woman. We shook hands a little reluctantly and he left.
Not for the first time I was left to my own devices and the untelling of a great story just about to be brokered. Ah well, drink on Jack, the day is young. I had another pint and thought about the cock sparrow Phil Daniels. I wondered how he was getting on with his 'dwriving lessing'. I looked out the window at some of the flash cars belonging to the production team based at Lee International. I envied their wealth and smugness. What the f--k did they know about Quadrophenia?
I'd lived it in the Goldhawk Social Club and suffered it with four inch knife in my back in the Discotheque just down the street from the Flamingo (A midnight phone call to my Aunt & Uncle from West End Central Police.. A nervous voice answered "Hello, Riverside Seven-Nine-Double-Nine?" "Is that Mr. John Sears of 194 Flora Gardens, Hammersmith?" "Yes??" "It's the West End Central Police Station here Mr. Sears. It's about your young nephew Jack. I'm sorry to have to tell you that he's been set upon and stabbed in a Soho night club. He's not under arrest or anything like that but it's a serious stab wound and..he was lucky really because it was only an inch or two from his lung. He's been detained in Charing Cross Hospital but we'll be interviewing him tomorrow.") My attackers? A gang who frequented the Goldhawk Social Club. My crime? I danced with one of their girls. Commonplace, and very Quadrophenia.
So I'm looking out the window of the bar at the flash cars and opulence of being a well heeled production manager at Lee International Studios...and what's this?? What am I looking at here? It's the jolly nasal cock sparrow 'hisself' taking a driving lesson. A driving lesson, dear friends, not in a car as I had presumed but on a f------g scooter - Phil Daniels was at that very moment being chased around the car park by a concerned driving instructor in a white coat and a clip file, while the cock sparrow struggled with the complications of getting a Lambretta into correct gear (not easy for a novice) and missing expensive flash cars by inches as he wobbled around the place in an embarrassing fit of starts and spurts.
I watched with a certain amount of pride and glee for I'd found myself out again, imagining he had got on a train out of his brain to do a driving lesson in a car.

So he got the part, he rode the scooter and then with not much respect for Mods or post office vans, he drove it over a cliff. £36,000? No problem!'

Irish Jack