This article was first published on CLUAS in Oct 2003
Hip-Hop in China
Hip Hoppers, Rappers and Punks... Take Beijing
The syncopated beat certainly doesn't sound like it could be matched to a traditional Chinese three-stringed erhu. And none of the fans filing in the door look like they're here for Peking Opera. It's a Thursday night down at the Yan Club in Beijing's newest artistic zone, a series of hastily converted old East German-designed factory buildings still marked with red slogans from the Cultural Revolution. Baggy pants, wide sunshades, basketball shirts and lots of hair gel seem conspicuous by their presence in this warren of obsolete electrical fittings factories. Tonight CMCB, Kung Foo Yiin Ts'ang and Dai Bing are facing off in a showcase of the city's leading rap and hip hop artists.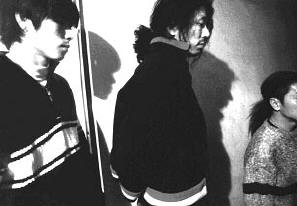 An Ear To the Ground is a series of shows in this multi-media arts club. Sponsored by car-maker Volkswagen and promoted by Sino-German events organiser Logistix, the shows are intended to give a sorely needed stage to Beijing's punks, rockers, rappers and folk artists. While Beijing's club scene is expanding rapidly, live music is confined to bars about the city. And live music there usually takes the form of easy-sounding cover bands, most of them from the Philippines, doing residencies in large bars and hotel lobbies. An exception to the rule, The Get Lucky Bar in the city's main Sanlitun bar district, charges rock fans 40 Yuan (?4.30) on weekend nights to see local rock favourites like Thin Man and spiky haired punk quartet Brainfailure. Billed as "one of the loudest, wildest, raunchiest bands in town," the latter have a large student following and do manage to live up to their promotional material's promises, certainly by virtue of amplitude and the band's Johnny Rotten leers.
Headliner at the Yan Club show is the father of Chinese rap, Dai Bing, a diplomat by training. He's been rapping since 1986, when he started singing R n B tunes he picked up from an African American friend. China was then still only in the formative stages of its "opening up" policy but Dai Bing was perfecting the moves and sounds of hip hop and rap, taking his cue from pioneers of the genre, US artists like Ice Cube and Public Enemy. He's had his tracks used in advertising campaigns for sports products and chocolate, worked as a music producer for several local TV stations and contributed vocals to the environmental theme song "Let Green Be Seen And Heard." His rap career started shortly after Dai Bing's graduation from the Institute of Diplomacy in 1990, when he released his first English-language single, "Rap Man."
Sharing the bill with him tonight, younger outfit Kung Foo meanwhile see themselves as a modern hip-hop continuation of traditional Chinese culture. Basketball and Chinese opera fan Yang Fan is the band's 22 year old lead singer. By day he works in a computer design house. "The three of us got together in October 2001 because we shared the same lifestyle and musical interests" says Yang Fan. "The live performances of our hip hop and electronica are very emotional and that inspires us and makes us make more music."
The release recently of the compilation album 'Xi Ha Now China' seemed to open the sluice gates and more and more hip hop and rap bands are spilling onto Beijing's music scene. One of the biggest hurdles to local outfits like Kung Foo and Brain Failure is getting recording and distribution deals. Independent record labels are a relatively new concept to China, but finding record shops to stock minority-taste local product is even more difficult. "Fans are always coming into our office looking for our CDs" says Shen Lihui, general manager of Modern Sky, a leading recorder of Beijing's home-produced avant-garde, rock and alternative music. "The big problem is we have no direct sales circulation of our recordings" explains Shen, who's currently negotiating store space with a select group of music retailers in the city.
Modern Sky has produced over fifty albums since the label was established in 1997, making it the largest recorder of indie music in China. Bands on its roster include rockers Caoji Shichang ("Supermarket"), the punky Bad Head and Bianli Shangdian ("Convenience Store"). Though relatively small-scale by the standards of American and European independent labels, Modern Sky, says Shen, is "...interested in promoting music by underground bands or independent artists... We want to enrich people's choices." Next in Shen's list of ambitions is the grounding of a "chain" of live venues across China where Modern Sky bands can get consistent live exposure.
Down at the Yan Club meanwhile a crowd warmed up on Tsingtao beer and near-weekend cheer is shaking and shuffling around the floor, attempting to match dance floor steps to Dai Bing's vocals. There's a full house and a distinctively Bronx look is mixed with the suits and stilettos of curious night owls. Dai Bing rolls out one of his big hits "If You Do That Again I'll Be Angry" and then everyone's moving to the beat.