This article was first published on CLUAS in June 2003
An Interview with Giveamanakick
Limerick's latest giveamananinterview...
Anyone who has seen them live knows. Anyone who has heard even a smidgen of their recorded material knows. Anyone who has walked past the doors during one of their gigs knows. Even those who wear earplugs 24/7 probably know it. Giveamanakick quite simply rock.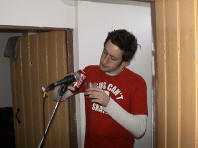 With members emerging from Calzino Fiasco and Tooth, Giveamanakick instantly became one of Limerick's biggest live draws since their inception in late 2001. Last summer, they released "Darko Filopovic" as a split CDR single with Mr. Creosote.

And now here comes the big one, with the duo set to release their debut album "Is it ok to be loud, Jesus?" on Larry Gogan Records. Actually, they're not?

"That was a joke", is how vocalist/guitarist Stephen Ryan describes what was bound to become one infamous record label name. "Foggy Notions (swanky new music publication which feature giveamanakick on their inaugural free CD) needed a name, so that was just thrown in. It's actually going to be released on a new independent Limerick label, Out On A Limb. It's just two guys from Limerick (the equally legendary Richard Bourke and Albert Twomey), who are setting up this label with a D.I.Y. ethic, but they want to get stuff into the shops. We are going to be the label's first release".

While they may not be using their joke record label name, Giveamanakick are bringing one broadcaster's name to a rock n' roll field (no pun intended). The "Is it ok?" album opens with a track entitled "Ger Canning". Have Giveamanakick got some obsession with some of those who are beloved of our national broadcaster?

"Actually, Mike Canning e-mailed me, and apparently he is Ger Canning's son. He told me that he heard the song on the Foggy Notions CD. It wasn't some guy taking the piss or anything. He thought the track was deadly but he just wanted to know the lyrics 'cos he couldn't understand what I was saying. So I had to tell him that basically the lyrics had absolutely nothing to do with Ger Canning. We were just stuck for a name!"

Did ye get a call from the great man himself?

"No! I didn't even know who he was; I'm completely ignorant about things like that. Keith (Lawler, drummer) knew who he was alright."

As Stephen tells me, they didn't exactly take a long time to record the album, but they did have to avoid several health and safety regulations en route.

"Keith used to live up in this flat in the middle of O'Connell St. It was the most disgusting place. They were squatting there and the place was rotten, just falling apart. We recorded all the drums and guitars over two nights there. It took about seven hours to do all that, so it was pretty fast and intense. That's all we got done there, because the guy who owned the flat knocked down the wall. Now it's a lovely office area, but it was the flat of death at the time!

From here they moved to the more comfortable environs of producer Mark O'Connor's "strange little cottage where the vocals were recorded on the top of a small stairs". Speaking of Mark O'Connor, on his website there is a photo of Keith holding a can of coke up to a microphone (see photo at top of page). What was all that about?

"Yeah, there is a can of coke in "Ger Canning". Just in the break, Keith thought it would be cool to have something there, so we got him opening a can in one take!".

Interesting recording techniques aside, the album remains faithful to the live sound that has made Giveamanakick many people's favourite Limerick act. From the Pixies-ish intro to "Marmite Walk" to the goddamn catchiness of one of their earliest tunes "Phats" to the pure intensity of "The Kid with the Really Old Face", "Is it ok to be loud, Jesus?" comes across as energetic and as loud as their gigs. When I mention this to Stephen, he briefly hesitates.

"I don't know. That's what we tried to do. Well, you obviously take some liberties when you are recording. There are some overdubbed vocals, and some effects like opening a can of coke that you can't do live! Other than that, we just used our live set-up. There are no overdubs, except for the ones you can hear!"

While the recording process was somewhat smooth, the band have been sitting on the album for a while, somewhat to Stephen's frustration.

"It kind of busted my balls! We had the album recorded since January. I got a mastering package for my computer and it took me two and a half months to master the album. We got to do some touring to promote the album before we release it, as we have to show the distributors something. It'll be in all independent record shops soon. We're going to initially get one thousand run, so we'll have to see how it goes. I don't want boxes full of CDs under my bed either. In terms of taking it outside Ireland, ourselves and Out On A Limb are going to have to go back to the distributors about that".

Over the past year and a half, Giveamanakick seem to be one of the Limerick bands that are doing the most gigging. Does Stephen feel that this experience helped them trash out their album in double-quick time, and what kind of response have they been getting?

"Well, we've only played outside Limerick a few times - twice in Galway, once in Dublin and once in Longford. In Dublin it was a bit weird. When I was with Tooth for example, it was always weird when we played there. The crowds always seem to stand back more than the crowds in Limerick. Still, we got a cool reaction as nobody left, and nobody wanted to beat us up! Galway was brilliant, as was Longford. I'd love to tour more but I don't want to play in Limerick too much, as people would end up getting sick of us. We won't be playing until we launch the album on 3 July. That's going to be at the Globe. CDs will be on sale and all of that, and we are going to have the place all done up! There's no support act for that gig, it's just going to be one huge Giveamanakick party! We're going to have a club afterwards, and hopefully we'll have some special guest djs. The following night we are playing in Ballymahon in Longford, then it's on to Dublin on the 9th to play the Music Room, Galway (Pacino's) on the 10th, Cork (the Gasworks) on the 11th, and then we are coming back on the Saturday (12th) to do an all ages show at the Globe".

Quite a lot of their live appearances have come in the form of a list of somewhat envious support slots, playing with the likes of The Icarus Line, Ex-Girl, Yeah Yeah Yeahs, The Soledad Brothers and Rocket From The Crypt. One such support slot, as Stephen tells me, could land the band with some invaluable touring.

"Electric Eel Shock. They are currently flavour of the month in Fly magazine. We hadn't a clue what they sounded like because they didn't even sound-check. There was a brand new P.A. in the High Stool, and we were on first. We were happy enough with the gig, even though nobody could hear us! Then EES came on, and they were just brilliant. We were talking to their tour manager, and we are going to be doing a tour with them in Ireland in late August, hopefully".

Finally, to draw on the title of one of Giveamanakick's glorious numbers, why should people "Say no to sports"?

"I dunno", laughs Stephen. "I suppose in Ireland, you are either really in to music or sports. I never really played sport, but I don't have any problem with those who do! People probably shouldn't say no to sports. Ger Canning didn't and look at him!

Even Mr Canning would probably be in the same corner as good ol' JC himself - When Giveamanakick are the band in question, loud is always good!

Giveamanakick were interviewed by Ciaran Ryan

"Is it ok to be loud, Jesus?" will be launched at the Globe on Thursday, 3 July 2003.


Click here for a review of the Giveamanakick album 'Is it ok to be loud, Jesus?'