This article was first published on CLUAS in June 2005
Interview with The Chalets
Mark hooks up with the Chalet's drummer Dylan Roche...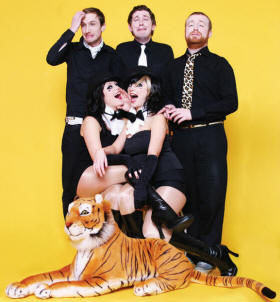 Dublin band The Chalets are certainly one of the most image conscious Irish bands around at the moment. Speaking to The Chalets drummer Dylan Roche, I am delighted to learn that their distinctive fashion sense is not at the expense of musical substance.
---
Where did you get your name The Chalets?
There are two stories behind that. One is made up and the other is very boring. We saw the name written in gothic font and we thought it looked really heavy metal but it wasn't a heavy metal name. We decided The Chalets had a nice ring to it and that it sounded like a really 60s girl group sort of name.

How long have you been together for?
We played our first gig in Connolly's of Leap (County Cork) in early 2002. We had been rehearsing for around four months before that. Me, Chris Judge (chief songwriter/bassist) and Enda Loughman (guitarist) were jamming prior to that in 2001. Chris started working on songs that were sort of arguments between boys and girls. We knew the two girls (Caoimhe Derwin and Paula Cullen) and asked them to join. Lyric wise a lot of the songs were conversation-based (between both sexes).

What are your influences?
We all listen to all sorts of music, from electronic music to 1960s girl group music. We all have our own personal influences. One band I really respect is Le Tigre (three girls who play feminist style electro punk.) We have been compared to them. I saw Le Tigre play when we played the Camden Crawl Festival in London. They were by far the most interesting and stood out a mile.

What common themes crop up in your music?
Lyrically, boys and girls, the politics of relationships, and Saturday night on the pull. We have all sorts of weird songs: some that focus ultimately on domestic violence it could be said. Some people have thought some songs such as Love Punch are a reference to this.

You have just finished a music video. Tell us about it?
It is almost finished. Frankly I think it's brilliant. Enda is involved in a collective called Daddy. They have made videos for Bell X1 and David Kitt. The video is for our new single 'Feel the Machine' which is released on June 3rd. Lyrically it is about being in love with your computer.

When are you going to record your debut album?
It's recorded and will be out in August. It will be called 'Check In.' It is all mixed and we are just about to send it to LA to be mastered. The artwork is almost done and will include a 1950's style portrait of the band. The new album will include fourteen tracks including 'Feel The Machine,' 'No Style,' 'Theme From Chalets,' 'Beach Blanket' and 'Love Punch.'

How did you feel when you won a Meteor Award?
It was very weird. We had been on tour supporting Art Brut in the U.K. at the time. We only heard about being nominated the day before the awards ceremony. So we flew back the next morning. At the ceremony we didn't win the award that we had heard we were nominated for. But to our surprise we found we had been nominated for a second award. Then we ended up winning the best newcomer award.

Do you think the award will benefit the band?
Realistically it is a nice accolade to have. Maybe more people will know us now. It got us lots of mentions in the press. These things are brilliant for raising your profile.

What are your future plans?
We are heading off on June 6 to tour around the U.K. with the band The Cribs. In August we are back in the U.K. to support Maximo Park and then we will be back in Ireland to play Electric Picnic.

How do you find being in a band with two girls?
It is totally torturous! You can be in a rush from A to B in London and the girls want to look in shop windows. Only Joking! It's fine. If we didn't have the girls in the band we wouldn't be who we are today. I also reckon we get a lot more girls at our shows because there are girls in the band.
Dylan Roche was interviewed by Mark McAvoy