This article was first published on CLUAS in October 2005
Interview with the Artic Monkeys
Ronan Lawlor catches up with Andy from Artic Monkeys...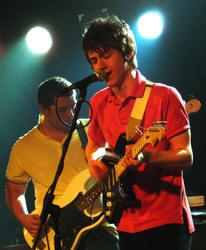 Remember that band you started with your mates in secondary school? You had everything - the name, the image, what instruments you were going to play. Of course you couldn't play your instrument but you were going to practice. Well you didn't practice and neither did your mates. All that remains of the band is its name sketched in the back of someone's homework journal from fourth year!

Now take Sheffield's Artic Monkeys. Like your band, these guys had the name first. But they did practice, and now they've got Franz Ferdinand's record label grooming them for greatness. And even though they've only released one limited edition single to date - Fake Tales of San Francisco - they've received a rapturous reception everywhere they've played (including Whelan's in Dublin - I was there, believe me, they rocked the place!). And they're about to embark on a European/North American tour this winter. Not bad considering they're all under 21!

So with power chords to make The Undertones jealous, and lyrics to make Mike Skinner long for a Yorkshire accent, how are the Artic's handling their overnight success?
---
First up, the name Artic Monkeys, where'd it come from!?

Alex (lead singer/guitarist) wrote it down in the back of a schoolbook when we were about 15 and said he wanted a band named that. So when we did start playing together it was the only option. The name was around before the band fell into place!

So how did the band fall into place? How did it all start?

It all started when we left school and had nothing to do. Alex and Jamie knew each other, I didn't know Jamie but I went to school with Matt and Alex. Alex and Jamie started playing guitar together, and I started playing bass guitar with them. Then Matt decided to be a drummer, bought drums and learned how to play. We all learned instruments to be in the band together. And we're still learning!

How is your debut album coming along, have you started recording it yet?

Yeah it's started; we've probably got about half it done. We went in a couple of weeks ago to do our new single (I Bet You Look Good On The Dancefloor), we had a week to do it so we ended up getting ten tracks done. So we got a good bit of the album done, even though we thought we were only going to get 2 or 3 tracks done. It (the album) should be out by January/February next year.

Does the popularity of your live shows ease the pressure to deliver or make it worse?

I think it eases it seeing as people know the words and the songs. Most of the songs we're playing now are going to be on the album so it's nice to know that people already know them. But we don't want to feel like we're giving them something that they've already got. We want to record it differently to the demos. It's a bit hard (recording songs people already know) but it's good that they know them anyway.

There is a lot of your music available to download off the net (roughly 20 tracks). Do you have a problem with people downloading your music for free?

No, not at all. Because it's how we started and it's got us where we are. We used to go into studio and record for a day, come out with 3 tracks all finished, spend all night copying them, then take them to our gigs and give them to people for free. Then the songs started appearing on the net and people started sharing them. It's good because people wouldn't come to our gigs over here in Ireland if they hadn't heard our songs on the Internet.

Comparisons of your music have varied from The Streets to The Jam. How would you describe your music?

No one has actually said "Jam" to us yet, that's great, we're big Jam fans!! I don't think I can describe our music. The lyrics are kinda like The Streets cos the songs are about everyday life but musically it's more like Oasis-kinda guitars with distortion but with a beat behind it you can dance to.

'I Bet You Look Good On The Dancefloor' fits that description; it has a real dance groove to it?.

Yeah we like to have our songs so that you can listen to the lyrics and have them mean something to you OR that you can just listen to the music and think its good music. So you can take one or the other and it still works.

An article in The Guardian back in June describes your music as an anti-dote to the "wishy-washy" lyrics of Coldplay & Radiohead. Would you see your lyrics as more pragmatic and colloquial?

I saw that article, that's the one that says Coldplay are crap and we're great!!! I'm sure people listen to their lyrics and think they're good but for us we can't just rhyme a word with another for the sake of it.

The Bio on your website says Alex was "afraid to admit he wrote lyrics". How did he overcome that?

That would have been when we were in school mainly. He'd be afraid to tell us them at first so he'd tell us hard parts to play so we'd be too busy learning them to listen to him! Once we'd practised how to play the parts and his lyrics would start meaning more, he'd be alright with singing them. I think he still does that to us but don't tell him!

Judging by the popularity of your early gigs, there must have been a lot of offers put your way from record labels. What made you decide to sign with Domino?

It was a case of 'one came, they all came'. We set out to get a record deal and knew what we had to work on. Domino was the last label to approach us. We were all set to sign for a different label when Laurence from Domino came to see us. We liked the Domino set up, and there are good bands on the label - Franz Ferdinand haven't done half bad have they?

Interview was conducted by Ronan Lawlor


Artic Monkeys new single 'I Bet You Look Good On The Dancefloor' was released on October 17th 2005.


CLUAS.com apologises for the consistent misspelling of the word 'Arctic' in this interview. This misspelling however does result in driving a lot of traffic to the interview from the major search engines as a lot of people misspell 'Arctic' when they do a search for 'Arctic Monkeys' and they then get directed here. So we decided to keep the poor spelling. So much for highbrow editorial standards, eh?