This article was first published on CLUAS in June 2010
Book review: 'Land of Hope and Dreams'
Chronicling 25 Years of Bruce Springsteen in Ireland...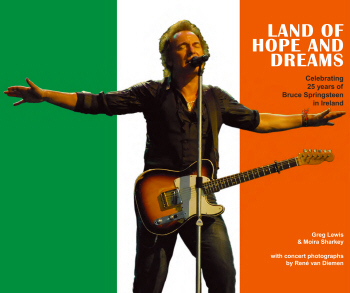 Almost 25 years to the day, Bruce Springsteen played his first ever Irish Concert, at Slane Castle, and so commenced the beginning of a beautiful friendship with the Irish people, that has continued to this day.

Land of Hope And Dreams: Celebrating 25 Years of Bruce Springsteen in Ireland, chronicling his 10 tours and numerous gig appearances that have taken place here, both north and south of the border.

In the opening Chapter [Born In The USA] the book takes us back to the planning for Slane and recalls the local community objection to the concert (following the trouble at Bob Dylan the previous year).

We forget that the Heysel Stadium Soccer disaster was only three days prior to his Slane appearance on June 1st, so security and safety were a priority. One fascinating fact (of many) in the book is that Springsteen wanted that first gig to be perfect so he performed a full dress rehearsal with the E Street Band the day before. We're also told that on the day, RTE were issued with 200 VIP Passes, and guest celebrities included Debbie Harry, Pete Townsend and Eric Clapton, but it's the unique fan photographs from Slane that make this the standout Chapter.

Each of the 10 Chapters in the book covers one of the tours he's performed here, along with complete setlists, ticket stubs, and newspaper reviews, but the highlights of each Chapter are the fans accounts of the gigs and their meetings with Bruce.

One of such many stories is from Mike Saunders who travelled with some friends from the UK and encountered a Garda check-point just outside Slane village where the Garda checking his ticket said "Sorry lads, these are forgeries" before continuing "only joking, enjoy the show".

Whether it's the story of an apprentice butcher on his busiest day [Saturday] persuading his boss to let him go and see the 'real' boss; meeting him in Burdocks Fish & Chips shop; or hiding in a car-park to meet him, they're all here, told in total honesty and complete with photographic evidence.

The authors have to be complimented for their thorough research into Springsteen's family tree in Chapter 5, revealing that Bruce's great great grandparents Ann Garrity & Patrick Farrell most likely originated from County Westmeath, and that Patti's grandfather was an Irish songwriter named Jerome Morris.

No stone is left unturned here. The Rising Tour, The Seeger Sessions in Belfast & Dublin, and the two nights at the R.D.S. last July [Working on a Dream] are also covered in great detail and photography, and bring this book right up to date. Even the death of Jim Aiken hit Springsteen badly, and is truly worthy of a mention here. Without Jim Aiken there would have been no Springsteen Irish legacy.

For Lewis & Sharkey there's no doubt this was a labour of love, and music lovers (Springsteen fans or not) will love this book. It's unique, totally original, will make you laugh and cry in places (just like Springsteen's songs). It is a fascinating side of the story of New Jerseys' favourite son, and the relationship he has with the Irish people, both on and off the stage. By allowing fans to tell their personal experiences in their own words, it gives the Springsteen Irish relationship that human touch.
Mick Lynch
Check out CLUAS coverage of Bruce Springsteen over the years:

To buy a new or (very reasonably priced) 2nd hand copy of this book on Amazon just click

here.