Yo La Tengo
Review of their album 'Summer Sun'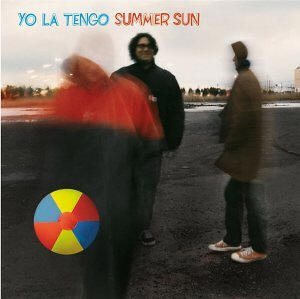 In 2000, American indie legends Yo La Tengo released one of the very best albums in recent memory. "And Then Nothing Turned Itself Inside-Out" is a work of mature pop genius, full of diverse invention and intense intimacy, with songs that have found a warm bed in many music-lovers' hearts. 'Summer Sun' is the official follow-up record, after a couple of interesting electronic/ambient/jazzy releases (the 'Danelectro' EP and 'The Sounds of the Sounds of Science' LP).

The current album continues this experimental lineage within the realm of the pop song, and marks another departure while remaining resolutely Yo La Tengo. It opens intently with 'Beach Party Tonight', an ethereal breeze drifting on backwards tape and flurries of treated trumpet and sax. That wonderful principle of voice-as-instrument is successfully employed and the song's overall effect is similar to that of My Bloody Valentine minus their trademark 'glide guitar' distortion. The band opened with this at their recent Dublin gig and instantly the world became still, peaceful and a more beautiful place. The song also works brilliantly on record as a teasing glimpse of what follows.

'Little Eyes' draws in next with a rush of dazzling percussion courtesy of Georgia Hubley, perhaps the most under-rated drummer around. She also provides the sweetest of vocal melodies, complemented by Ira Kaplin's inspired echoed guitar line, sounding "like a buzzing amplifier/roaming through the air", to quote the song itself. It's the album's standout and might be the best indie pop song you'll hear all year.

'Season of the Shark' isn't far behind, with Ira this time singing a typically addictive melody that you'll warm to right from first listen. The chord changes are delectable and the keyboards are warm and understated. It's reminiscent of Luna or the Magnetic Fields at their mid-90s peak - American lo-fi at its very best.

'Moonrock Mambo' is a bass-driven jazzy ode to love and desire, while listening to 'How to Make a Baby Elephant Float' (what a great title) is like taking a boat trip down a candy river under amber moonlight with all your best friends. 'Georgia Vs. Yo La Tengo' is a rip-roaring funk workout with a delicious piano riff, watery synth effects and a bellowing Hammond worthy of the Charlatans. These tracks in particular are irresistibly upbeat.

A lot of the album nestles a darker edge however. 'Winter-A-Go-Go' is, at surface level, the kind of lounge music they play in heaven. Its hyper organs, bouncing bass and swinging chorus will have your hips swaying and your fingers clicking along. But mid-dance you'll realise that Georgia is singing lines like "Then you looked at me/And all I could see/Were the walls closing in again/And the desperation in your eyes". Even the very title of the song plays to this paradox.

Similarly, the title of the album itself is a bit misleading. The band members look a bit chilly on the cover for a kick-off! And the album is very much a nocturnal affair, with the lyrics full of contemplation, nostalgia and sometimes regret. It's no so much summer sun as it is the midnight memory of hazy days gone by. 'Summer Sunset' perhaps. 'Today is the Day' is a soft lament, with Georgia recalling "We were going to talk all night/Till I went away". On 'Nothing But You and Me', Ira pleads "Can't we just be/The way that we used to be".

The other over-riding theme of the record is one of concern and comfort. The aforementioned 'Little Eyes' is a heartfelt appeal for someone close to rise above depression and start helping themselves ("Is it ever going to stop?/I guess that's up to you"). On 'Don't Have to Be So Sad', Ira offers all he can give to make someone's life that bit better, knowing that this transformation in turn would make him happy too. Talented bassist James McNew hopes for a similar connection when singing 'Tiny Birds'. It's fitting that the final track on the album is a gorgeous, faithful version of Big Star's 'Take Care'.

Musically, the album is a myriad of styles, influences and instrumentation (The ten-minute 'Let's Be Still' is particularly rich with experimental intuition). Despite this diversity, there is a strong focus at hand, working mainly towards the reflective and humane nature of the lyrics. It's like all the various sounds on every song were stemmed through some kind of tranquillity filter, making the finished work the perfect late night comfort listen. This is not, of course, to be confused with easy listening of any kind because 'Summer Sun' is never less than compelling.

Despite the graceful brilliance of this album, it doesn't quite reach the heights of 'And Then Nothing Turned Itself Inside-Out'. There is no song as overwhelmingly romantic and intimate as 'Our Way To Fall', none so heart-breaking as 'Tears Are In Your Eyes', none so keenly observed as 'The Last Days of Disco' and no song that will blow your head off the way 'Cherry Chapstick' does every time you hear it.

'And then Nothing?' will definitely be considered the more enduring work over time but that shouldn't make the current album any less essential right now. It has a captivating character all its own. Despite the quality of releases already in the first half of 2003, and without doubt some great albums still to come, 'Summer Sun' is surely destined to be one of the records of the year.
Ollie O'Leary