Whipping Boy 'Whipping Boy'
Kevin on their third album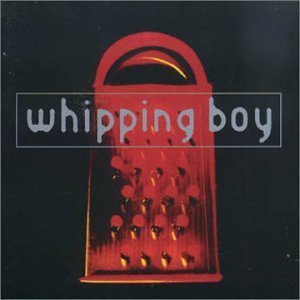 One time possessors of Dublin's 'next big thing' tag, Whipping Boy's third album finally sees its release this month two years after it was recorded. The raw dark sexual tension that was prevalent on its predecessor - the excellent 'Heartworm' - takes a minor role here compared to a new found pop sensibility spread on a wider musical canvas. The sheer power of the band remains undiminished. They still present their work in an honest unflinching manner that is in unison with greatness.
'So much for love' is resigned and sad, 'Bad books' and 'Fly' show that McKee can still express love/obsession in a fine manner and the musicians know how to score it. 'Pat the almighty' is perhaps the ultimate conclusion of Whipping Boy's own verse-chorus-verse format, with a killing hook of "the kid's a f**king star / he should be wearing gold monee". 'That was then and this is now' is tongue in cheek along the lines of Heartworm's 'When we were young'. 'Puppets' and 'Mutton' take a swipe at the pretension the band have always fought against. 'One to call my own' is probably McKee's finest vocal performance to date. Technically his voice is flat but he expresses every word, to its full emotional potential. And on the point there is some superb lyricism on the album - "but you wont find gays and lesbians in the emporium of seeds / only perfect boys and girls for suburban garden dreams" on 'Who am I' (an airing of the band's (righteous) views on artificial insemination). And then from 'No place to go' - "woke up this morning from the middle of a dream / and all I could remember was MTV screens / every time you're feeling fine you know it's a lie / every time your feeling fine you know its closing time". I could quote the whole album.
This album has the same obsessive listening quality as 'Heartworm'. Whipping boy are perhaps one of the few innovative downright unique bands that Ireland has ever had and join My bloody Valentine, the Pogues, a house and Fatima Mansions as unsung national heroes. Admittedly there is nothing as immediate as "Twinkle" or the brutalism of "We don't need nobody else" but this is a quieter more mature record. There are one or two tracks that are just plain old indie but, like the Pogues, weaker tracks hardly matter when you're so easily capable of greatness.
Ireland 2000 needs band like Whipping Boy. With the country succumbing to a gross cosy trendy materialism veiled in pretension and the musical landscape desolate of fresh hope we should thank the stars that a band with intelligent rock and roll principles embedded in their hearts have reformed.
Kevin Fitton