Turin Brakes
A review of their album 'LateNightTales'
Making up tapes - you must have done at some stage in your life. A few drinks with a friend, and by the end of the evening you've promised to put together a few cool sounds. You'll dig these, man, I swear. You fork out on a c-90 cassette, rummage through your record collection, stack all your favourite sounds on it, making sure you don't over run on either side. You give the completed product to your buddy complete with track listings and dolby reduction and never hear about it again. The "LateNightTales " franchise is much along these lines - musos of varying backgrounds and credibility are asked to put together a collection of their favourite tracks, provided they supply one piece of their own.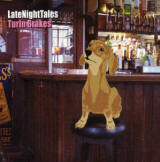 While this idea sounds fine and dandy in theory I have problems with it. First up, in some ways these collections are a glorified form of musical grave digging. I would draw a distinction here between putting these albums together and what, for example, people like DJ Shadow are doing. In the case of the Great DJ and his peers samples and sounds are coalesced to make something new but in the "LateNightTales" scenario a bunch of old tunes are stitched together and the musical selector gains credit by association. It's also a mildly patronising deal- "we know our chops, we've an enormous and highly eclectic record collection , and, whether you like it or not, we know what's good for you" And we're somehow supposed to feel grateful.

It's typical of the crazy rock n roll world that we live in that despite these shortcomings "LateNightTales", or at least the ones I've heard, really do work. I would recommend the Groove Armada volume - slick, cheesy, summery - and Kid Loco's - dark end of the street in tone and yet alluring and very charming. I would have reckoned that Turin Brake's take on LateNightTales would have been the worst of the lot - the Dismal Duo leave me cold, no humour, no irony, no fun. And yet, from the opening bars Nicolai Dungar's downbeat "Last Night I dreamt of Mississippi" till Brian Blessed's spoken coda this LateNightTales is probably the best of the lot. Unlike a few of these collections the Brakes do not attempt DJ or segue tracks. Their selections stand or fall on their own merits, and for the most part their sense of taste is spot on.

There are glitches of course - the John Barry theme from Midnight Cowboy, scandalously sampled / cogged by J Lo recently, is gorgeous but it's too lush to tie in with the slightly sombre mood of the rest of the music here. Similarly, Al Di Meola's "Short tales of the Black Forest", an all bells and whistles jazz track, is a fussy, pompous aural sore thumb. Minor quibbles aside, there are some great pieces here, chiefly Talk Talk's "I believe in you" . Talk Talk are - and always will be - prog rock, filed under "Ethereal " but their melodies and pure grace carry off the deal. J.J.Cale's "Magnolia" is a delightfully parched piece of blue collar romance, David Palmer's ghostly piano instrumental version of Elliott Smith's "Speed Trials" is eerily muffled , sinister and cool, John Hammond's tearful blues on "Deamy eyes girl" is an essay in sadness, the Silver Jews' "Send in the clouds" is salacious rock and roll and most surprisingly, Turin Brakes themselves contribute a restrained cover of the Rolling Stones' "Moonlight Mile, the best thing they've ever done in pure recording terms.
Recommended.

Anthony Morrissey