Various Irish Artists
Review of 'Tom Dunne's 30 Best Irish Hits, Vol. 2'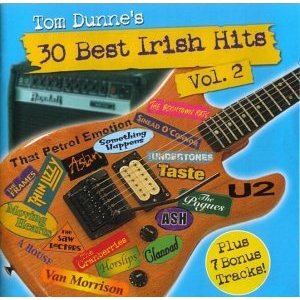 There's something very artificial about a record-full of hit singles. We get some great songs but it's a very unrealistic picture of any featured band's typical product. Nobody could question Tom Dunne's commitment to good music and the promotion of same. Nor that his show deserves its meteoric rise in the nation's listenership figures. But with such popularity there come some risks - there is a danger of succumbing to the same problems that beset his competitor. Dave Fanning hit over-exposure several years ago and his ubiquity knocked a nasty dent in the man's cred. He or his producers simply wanted too much and Dunne appeared as a handy fresh alternative to the Mr Everywhere. With a voice as sculpted for radio as his, it's no wonder that Today FM would want to prop up weaker shows with some stand-ins by Dunne. Stay away Tom from such offers, and stop voicing so many damn ads.

Anyway, back to the CD. The songs on this collection are a few dozen more great lumps of proof that many bands did indeed get away and the most famous Irish groups are not necessarily the best. It's particularly sad to listen to Whipping Boy's 'When We Were Young' and know they're not a world phenomenon. Dunne's own band Something Happens appear with 'Hello, Hello, Hello?' a delicious piece of fun rock n' roll that shows Dunne is as good writing as he is talking. When I interviewed him several years ago at the start of his Pet Sounds days, Dunne gushed in admiration of Elvis Costello, his ultimate songwriter. His own words here match Costello's better creations.

Another Costello fan, Nick Kelly here sings one of his better songs with the The Fat Lady Sings, the slow-burning 'Deborah'. Phil Lynott sounds his charismatic self on the dance hall-vibed 'Rosalie', a Bob Seeger-written slice of late 70s candy rock which epitomises all that was fun and accomplished about Thin Lizzy but which doesn't by any means represent their finer moments. The very last song on the collection, the Sawdoctors' N17 seems to have been tacked on out of some altruism or guilt on Dunne's part. Dunne's liner notes explanation certainly gives that impression, as if the Sawdoctors just ain't cool like JJ72 but they're here in case any Pet Sounds listeners west of the Shannon get peeved. Scanning down the playlist you see that, up to that point, it is pretty much an East coast album.

The two least faultless tracks to these ears were After All (Frank & Walters) and When We Were Young (Whipping Boy). There's many a hero here though. Burn Baby Burn by Ash blazes a trail as ever and sad memories of the demise of the (brilliant) A House resurface at the sound of their 'Call Me Blue'.

Probably better than the first volume released last year, this 2 CD collection could make a good present for your in laws in Mongolia to give them a hint of the injustices of the music industry. If there's any lesson out of this, it is that talented managers make talented bands famous bands. And you'll not have one without the other. Heck, this record should be sent to every corner of the globe to be in solidarity with the CDs of all great Irish bands that now rot in the bargain bins of the world.

Click here to read about ten great forgotten Irish singles, as selected by CLUAS.com