The Thrills
Review of their album 'So Much For The City'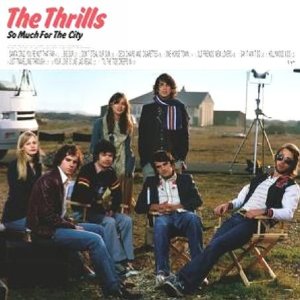 It goes without saying that The Thrills are possibly the most hyped Irish band in quite some time. Championed by everyone who's everyone and added to practically every festival listing in the UK and Ireland, The Thrills have even found themselves embraced by the sacred bastion that is commercial radio. Hence, you will already have heard the singles 'One Horse Town', 'Big Sur' and 'Santa Cruz (You're not that far)' several times before you even lay a finger on 'So Much For The City'.
If the afore-mentioned tunes are to your liking then you'll find much to enjoy on the Dublin band's debut offering. However, if you seek invention and originality served with a sprinkling of raw honesty, stay far away from Ireland's 'bright young things'. It is slightly redundant to point out that this has all done before. The Byrds, the Beach Boys, Neil Young - they're all plundered here for a record that consistently fails to spark or even smoulder slightly.
Personally, the first three singles lifted off the record are amongst the most narcoleptic of hits imaginable. It is undeniable that the sixties gave us some of the finest pop music to date but it is inconceivable that such a resounding influence could be turned into a plodding, contrived mess like 'So Much For The City'.
If you want awe inducing sixties pop then return to such gems as 'Pet Sounds', 'Smiley Smile' or 'Sweetheart Of The Rodeo'. If you want to take this wonderful slice of music history and add a modern slant to it then be Matthew Sweet, be Fountains Of Wayne or be off with you.
Mark Grassick

To buy a copy of this album on Amazon just click here